Customers rave about our Customer Services Representative Shari, who's always on hand to give advice, encouragement and friendly service. In turn, she's always raving about the wonderful projects our customers complete using our products. Here's one of Shari's favorites – a stunning indoor swimming pool design brought to life with faux wood trusses.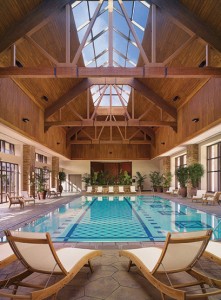 As you can see from the before pictures, this amazing pool room started life with bare concrete walls and stark steel beams. The magic happened when a team of contractors used our Woodland beams and planks to cover the bare metal and drab cement. First, the planking was added to the upper walls and ceiling, creating the illusion that the towering ceiling was made from real timber. Then using hydraulic lifts due to the ceiling height and the space being spanned, the steal beams were covered with the beams, again creating the look of real wood. Because the beams are molded from durable, high density polyurethane foam, they were light and easy to maneuver into place – and their hollow construction and u-shaped design made them easy to place over the real metal supporting beams. Matching corbels were added as a design detail. The final step was the use of 
beam straps
to conceal where the lengths of beam met. From the floor, the durable and easy-to-install straps look just like the hammered iron banding that traditionally held wood beams together. As you can see from the "after" photo, the results are nothing short of stunning – and faux wood beams are a choice that's as practical as it is aesthetic. Besides being monumentally cheaper and easier to install than real wood.  the beams and planks are totally waterproof – which is important given the dampness and humidity of an indoor poolroom. Is this the most stunning transformation we've seen? It would be difficult to say – there are so many incredible projects customers have sent us photos of. One thing's for sure – this is an example Shari and the FauxWoodBeams.com team are very happy to have played a part in bringing to life; and we love telling other customers about it.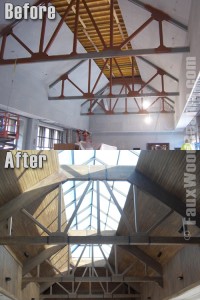 The pool room began life with structural cement walls and towering steel beams.
Contractors covered the boring structures with our faux wood products to create the wooden aesthetic.