Our intrepid staff is always on the lookout to see our product being used \"in the wild." Here are some great snaps from team member Billy, who spotted Wellington Drystack Earth Panels in a Stop & Shop supermarket's interior design.
Stop-and-Shop Supermarket Design Goes Faux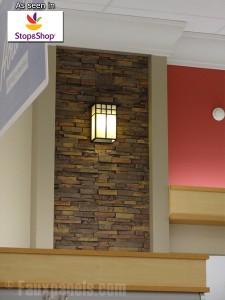 While we always love to see entire homes and buildings covered in our panels, we're also fans of the motto "less is more."
That perfectly describes how this Stop & Shop store decided to use our panels in their design.
The designers highlighted a few key spots across the expansive open-plan of the store, and covered those with the Drystack panels on three sides to give the illusion of real stone columns, intersected by the wide, flat walls painted with regular colors.
These accent pieces added a sturdy framework to the enormous open space; breaking up the flat walls and serving as a subtle design element that helped signs, posters, lights and fixtures stand out.
And the best thing about this technique is that it has a price-tag totally disproportionate to how cool it looks.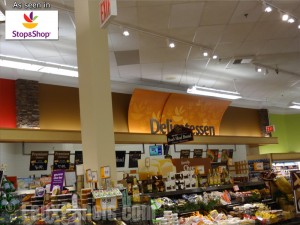 This project only required a few panels, and just hours of installation time - saving valuable money and time in complete contrast to how great they look.
The panels themselves install directly onto the existing sheetrock, using regular construction adhesive and screws.
The panels interconnect, like jigsaw pieces, providing a seamless appearance.
Even better, they can be cut to shape using nothing more than a regular wood saw; so getting them to fit the space available is a one-man job requiring only the tools that a regular carpenter or contractor would have in the back of their truck.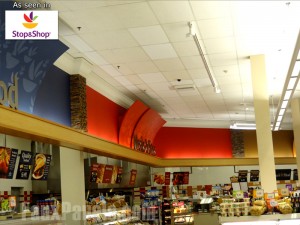 This shot shows how mitering allowed the panels to seamlessly cover a 90 degree angle.
In fact, the most challenging part of this project was probably the mitering - creating an angle to each panel edge which allowed them to join seamlessly.
It's a fairly straightforward job; but it's an attention to detail that makes a project like this really work well.
So far, this is the first Stop & Shop we've snapped pictures from using our panels.
Next time you're out buying a gallon of milk and see something similar, be sure to let us know! Send your snaps to info@fauxpanels.com.