The FauxPanels.com offices were right in the path of Hurricane Sandy - but one customer noticed that the worst weather in New York history didn't prevent his delivery arriving on time.
Stone-Looking Siding to the Rescue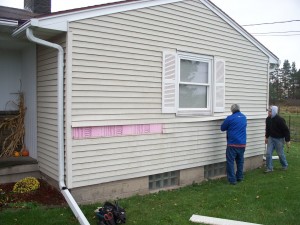 Matt's project started by recycling siding from the front of his home, which they used to cover up a closed-off window space.
"I placed an order the morning you were hit by Hurricane Sandy," writes FauxPanels.com customer Matt W., from Churchville, New York, "and so I was astonished at how fast I received my order."
Matt had selected our stone look siding to overcome a very specific problem with the remodeling of his recent home purchase:
"We recently bought this house and needed to remodel a bathroom and decided to close off a window on the side of the house," Matt writes. "We were unable to find matching siding so I decided to reuse existing siding from the side of the house to cover where we closed off the window"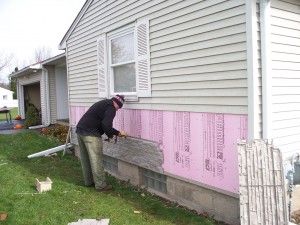 Next came installation of the new panels, which attached directly onto the house wrap beneath the old siding.
It was a startlingly smart solution to Matt's problem - but created another one he hadn't anticipated: After taking the siding he needed from one side of the house, he needed to source a new siding to cover the bare foundations.
But fortunately, that had always been part of Matt's redesign scheme - as he'd decided that one way to give the drab house some great new curb appeal was by adding a contrasting skirting that resembled real stone foundations.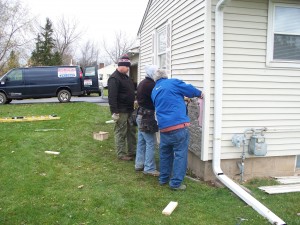 To prevent the two rows of panels from looking repetitive, Matt cleverly offset them; creating a seamless stonework pattern.
To achieve this look, Matt writes: "I decided to go with the Nailon Stone Mountain Ash panels to match the existing Carolina Blue Stone we have on the front porch of our house."
And fortunately for us, he included pictures of the entire installation process - with one exception!
"I was so excited to start I forgot to take a picture before we actually started to tear off of the original siding."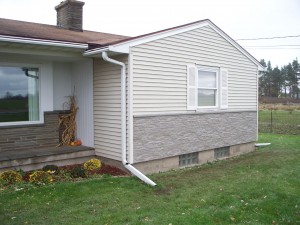 The finished result looks spectacular, and neatly matches the existing stone on Matt's porch.
As you can see from the photographs, installation was fairly straightforward.
Matt was able to attach the panels directly to the house wrap beneath the original siding (although some regions require you to use drainage mats as well). They attach similar to conventional siding using nails through specified nailing holes to secure them in place.
Matt cut the siding panels to size as needed and offset each row slightly to give the seamless appearance of stone walling that is practically impossible to tell apart from the real thing.
"I am very proud of how the project turned out!" Matt writes - and we don't blame him. They look great!