Wood Stove Surround with stunning Staircase
See how a homeowner created a wood stove surround that doubles as a stylish and rustic staircase feature.
Fauxpanels.com customer Anthony originally hails from Massachusetts - but each summer he spends the season up in the gorgeous wilderness of Maine. Out there, in the wilderness, he has a family cabin that's truly a home away from home.
Of course, what turns a house - or a cabin - into a home is love; and Anthony has blessed his with plenty of that. He's maintained and enhanced all sorts of parts of it - most recently transforming the look of the ground-floor stove.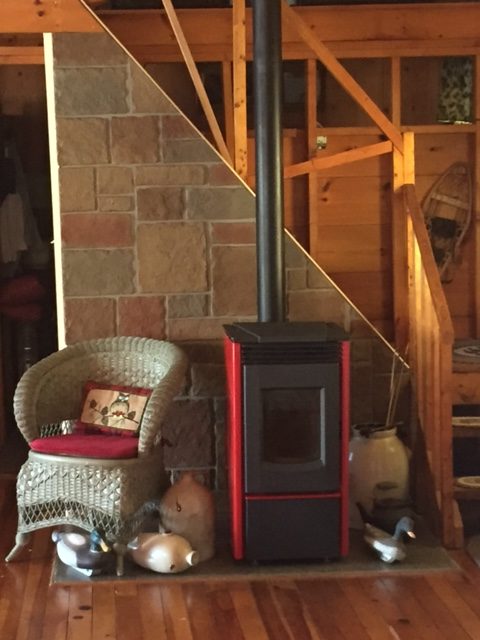 AFTER: The surround looks like it's been built from real stone.
The wood-burning stove was in the nook of the staircase - and Anthony needed some kind of surround for it. To match the rustic feel of his cabin, he wanted to go with stone - but that is both expensive, impractical and would require moving around some of the structure of the perfectly-good wooden staircase to install.
So Anthony turned to us - and managed to find a solution that met his needs.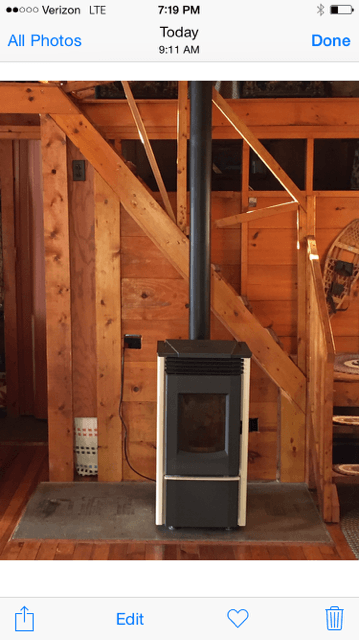 BEFORE
"I ordered 3 Carlton Castle Rock Harvest Panels for the hearth and staircase project," Anthony writes, in the email that accompanied these pictures. "The panels were extremely easy to cut with a jig saw and I was amazed at how easy I could do it."
DURING: Carlton Castle panels were easily cut to size to perfectly suit the space available.
Using the saw, Anthony was able to cut the panels to perfectly match the profile of the staircase wall. Because the panels are made from lightweight polyurethane foam, it took nothing more than basic carpentry skills to be able to get a perfect match.
Then, Anthony installed the panels directly onto the wooden frame and surfaces. They can be attached with screws and construction adhesive and each of the three panels Anthony purchased slotted together for a totally seamless pattern.
So, as you can see from the pictures, the end result looked like the hearth itself was made from huge, heavy stone bricks; just like you'd find in a historic home.
"They truly gave my Maine camp a facelift," Anthony writes - and, more than that, they did it in a fraction of the time and cost of using real stone.