Who Says White Siding Is Boring?
There are two towns in the area where I live that are about six miles away from each other, yet virtually a universe apart when it comes to their building aesthetic. One of them is your classic New England village, with stately old whaling captain houses - lots of white wood and black shutters. The other is well...not. The majority of the town is covered in little summer cottages and restaurants that are every bright color you could imagine, usually in the pink and purple families. We're not talking understated lavenders and roses here...
Exterior with Glacier White Nailon Stone
So shocking magenta or violet may not be your cup of tea, but the average white wood house isn't really your bag either. You might want to consider the look of white brick or stone. White looks good with everything, no matter what your landscaping or surrounding areas look like, yet the texture can give your house that little something extra. And what a more perfect time to spiffy up your home's exterior than spring?
Luckily faux panels are super-easy to clean, and if after awhile you feel like a change, they easily can be painted. You just might want to avoid that can of Pepto-Bismol pink.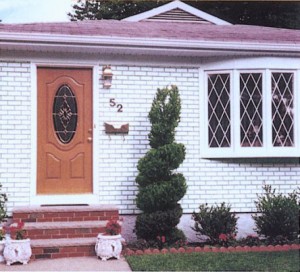 Colonial White Nailon Brick