In this small bathroom remodel, Wellington River Rock provided a quick-and-easy cover-up for an ugly corner section!
Rockin' Small Bathroom Remodel
AFTER: Joe's finished project looks fantastic.
Joe P., from Lynnfield, MA, had a bit of a problem.
In his fixer-upper home, he was in the process of making the bathroom beautiful - but an ugly corner unit seemed determined to spoil those plans. A narrow box section, made to cover the unsightly water pipes, electrical and waste, it was definitely not in keeping with the classic look Joe wanted to go for in the small bathroom.
Fortunately, Wellington River Rock panels came to the rescue. Molded in light and durable polyurethane foam, these panels were the perfect choice for Joe's bathroom because, in addition to looking great, they were thin and easy to install in the small space.
The panels install directly onto the existing wall, with a combination of construction adhesive and screws. For Joe, the most challenging part of the project was cutting the panels to size; which can be accomplished with nothing more than a regular wood saw (and proper, accurate measurements.)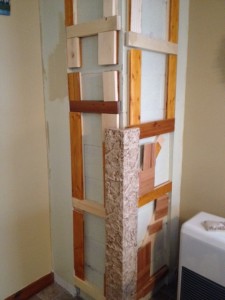 BEFORE: You can understand why Joe chose to cover up this ugly, but functional corner box section.
Many of our customers like to miter their panels at the right-angled join. This is a fairly straightforward process, in which you cut a panel in half and cut out a 45 degree section from each edge. When you're done, each half will slot together at a 90 degree angle while seamlessly retaining the texture of the panel. You can read more about how to miter a corner here.
Joe took a different approach. He instead added a pre-made corner section from our site to frame the entire section; making it appear like a solid stone wall. It's a great look; and one that you can achieve without mitering.
We think the finished result is fantastic - and Joe's also a fan. "It looks GREAT," he agreed, in the email he sent us with "before" and "after" pictures. "Very happy with outcome."
What do you think? Let us know in the comments section below.