Fabulous Entrance with Slatestone Porch Post
As soon as Gemma moved into her home in Finleyville, PA, she saw the potential in her front porch. Shady, with gorgeous red brick walls and stone slabs underfoot, it was a characterful and welcoming entrance; perfect for warm summer evenings, or fall trick-or-treating.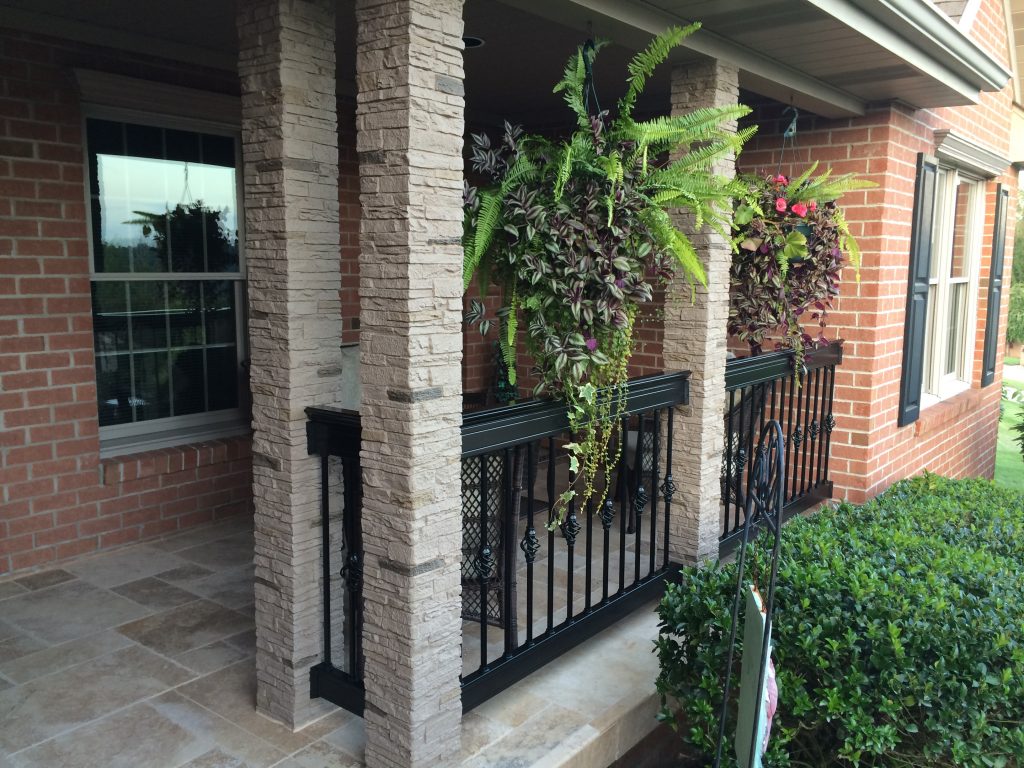 AFTER: The Slatestone style porch post wraps seamlessly cover the original supporting columns.
But there was something missing - and Gemma quickly cottoned onto the fact that it was the columns and railings that left her feeling uninspired. Made from sturdy wood, and painted in a drab gray/green, the railings and columns were practical, but hardly in keeping with the character of the rest of the house.
Fortunately, FauxPanels.com had a solution - and Gemma got the look she wanted with Slatestone porch post wraps.
The style Gemma chose were our split columns from the Windsor line which are cleverly designed to slot over existing structural columns - hiding them behind a realistic stonework pattern. Gemma matched the the new look with black railings for a subtle, but significant upgrade to her front porch - one more in keeping with the character of this red brick home.
In addition to looking great, the entire project was affordable and straightforward to install. Unlike using real stacked slate to build a column from scratch, the wraps were ordered in the right size to cover the existing columns; and the biggest challenge Gemma faced was cutting them to size. She had to stack two columns on top of each other to cover the entire height of the porch, and used a regular wood saw to cut out the gaps needed to accommodate her new black metal railings.
BEFORE: You can see why Gemma felt that her porch needed a facelift.
Colored caulk covered up any visible seams, and the results speak for themselves - in a matter of hours, Gemma managed to transform her front porch with a look that's the envy of all her neighbors.
And the best part about 'going faux' is that not only is the installation easy and affordable - it'll also last. Our products are molded from tough, durable materials made to withstand the elements. Whether torrential rain, blazing sun or frigid cold, they will continue to look stunningly realistic for decades to come.
What do you think of Gemma's project? Impressed? Let us know in the comments section below.
Product Used in this Project