A customer sent in project photos this week that left us awestruck; a stunning whole house remodel using our beams and panels from our sister site, FauxPanels.com. We couldn't wait to share them with you!
If you've been reading this blog for any length of time, you'll know that I often repeat the mantra of \"less is more." In fact, last week's post was specifically about how elegant a very
simple and straightforward faux beam installation
can look.
Rustic Beams created a ceiling treatment worth of a luxury hotel in the master bedroom. Well, to quote Short Round from
Indiana Jones and the Temple of Doom
: "Hold onto your potatoes, Dr. Jones." This week we're going to look at the exact opposite approach - a faux wood and stone project that goes the whole hog; and looks simply
breathtaking
. This is one of those rare examples in which the only truth greater than "less is more" is "
more
is more." The homeowners behind this project wanted to transform their home, so they ordered almost half a dozen types of products from this site, plus more from FauxPanels.com, and used them all to create a home that now is worthy of feature in
House Beautiful
. We're going to be going room-by-room with this project, so stand by for more blog posts in the coming weeks - but, for the time being, here's the big story: The homeowners behind this symphony of synthetic wood and stone started off with a house that featured a unique and appealing layout. This included towering ceilings, and even a mezzanine overlooking the vestibule. Right from the get-go - when this home was still just a drawing on an architect's drafting table - it was clear it was going to be
different
and
special
.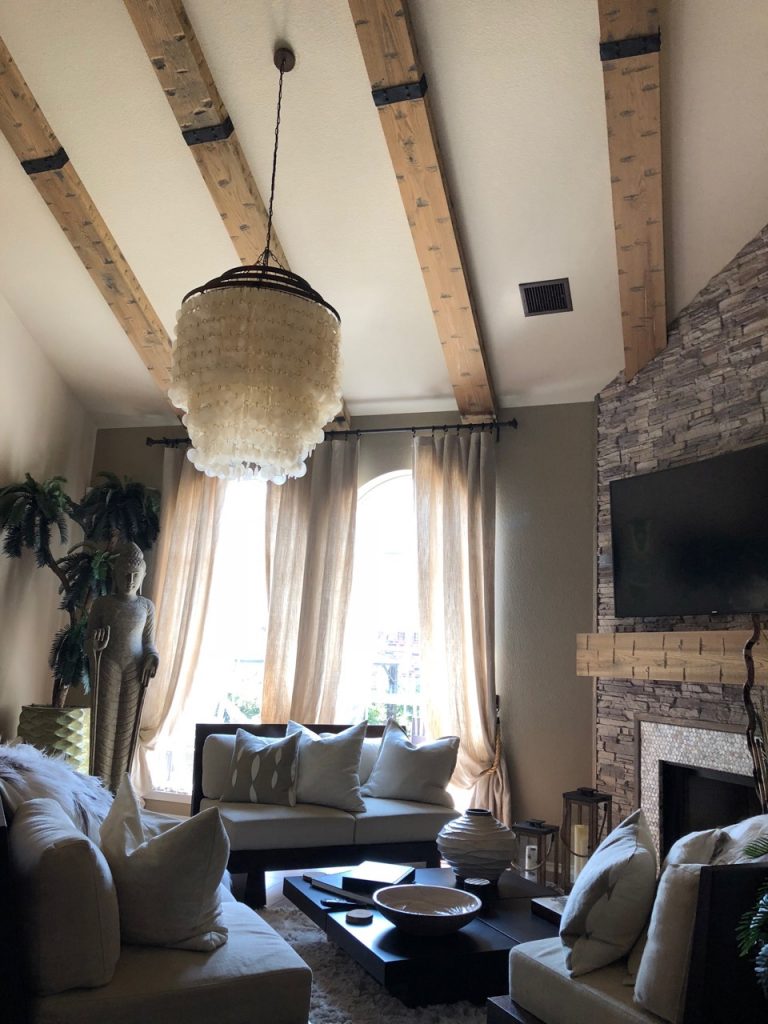 Hand Hewn Beams with straps transformed the living room's towering ceiling, and provided a stylish mantel. Logically enough, when the home was constructed and finished it was decorated in the standard, neutral style that realtors recommend - because too personalized a style can put potential buyers off. However, this left the contradiction of a uniquely-designed home with a very bland and boring interior. The homeowners decided to resolve that in a big way. Our faux wood beams were used in a number of different rooms, including the living room, kitchen, dining room and gym. The homeowners ordered
Custom Hand Hewn Beams in Light Oak
,
Custom Tuscany Beams in rich Walnut
, and
Rustic Beams in Walnut.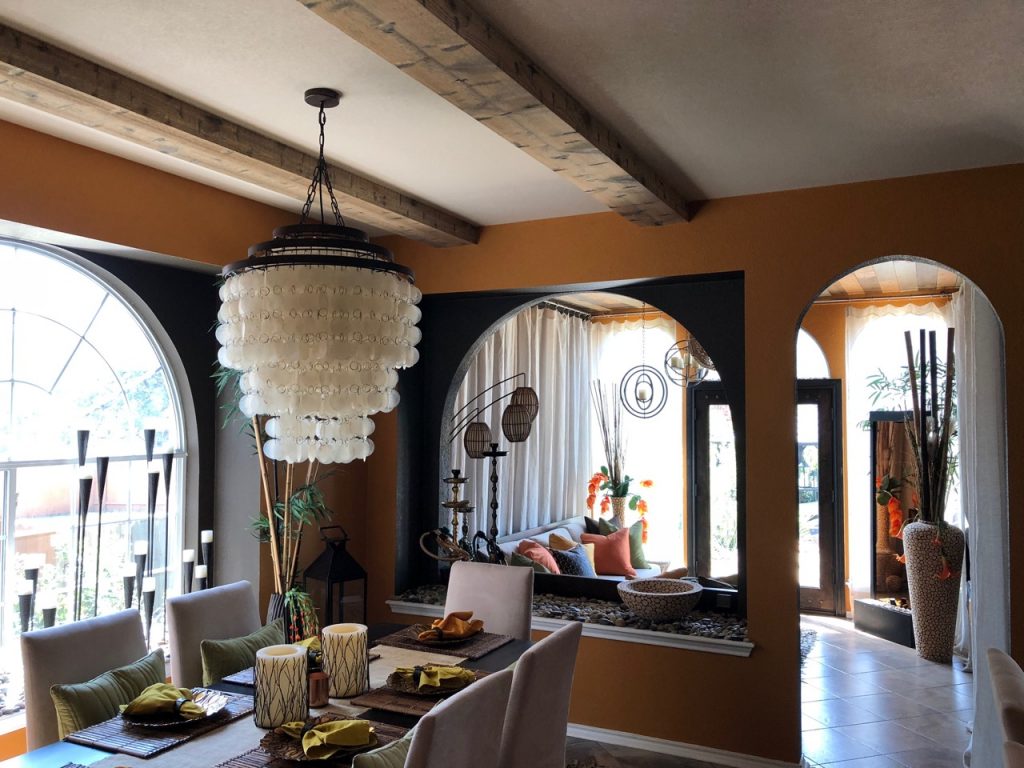 Hand Hewn Beams are a beautifully understated addition to the dynamically-decorated dining room. For example, in the living room and vestibule, the Hand Hewn Beams run up and down the towering ceiling, whereas the Custom Tuscany Beams and Rustic Beams were used for more complex and constructed ceiling fixtures in the master bedroom. We'll be going through each room individually in follow-up blog posts, so stay tuned. In the meantime, marvel at these sneak-peek project photos; and if you're anything like me, you'll start to question just how universal the theory of 'less is more' really is. This is a great project, and since we're speaking of how 'more is more' - we can't wait to show you more of it!