Even our scrap panels go to good homes - as demonstrated by these awesome pictures from George Loizidis, one of our customer service representatives.
Scrap Sets the Stage at Long Island Home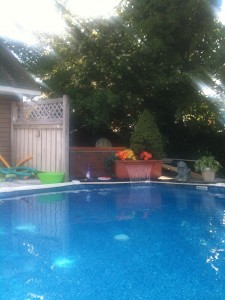 This red faux brick wall looks great by the pool - but even better on stage!
"I have attached two pictures of small scenery projects my brother-in-law has done so far with the scrap panels and beams we have given to him," writes George Loizidis, one of our customer service representatives.
His brother-in-law, a set designer on Long Island, eagerly accepts scrap panels and damaged products to use in set designs for many of the plays and shows he's involved with.
"The first one is a wall that he built with an unrouted Carlton Panels and a section of a Hand Hewn Beam for the children's play Alice in Wonderland. It's a brick wall for Humpty Dumpty to sit on!"
And no, this version of Wonderland doesn't feature a poolside scene: "In the interim of storing it, instead of placing it in the attic, we felt it also worked just fine next to the waterfall by the pool - since it is so light and easy to just place there, we can just remove it when it's needed for the play."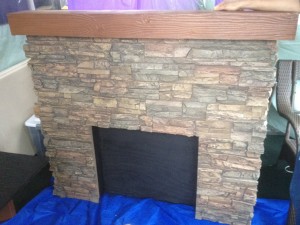 This stone veneer fireplace wouldn't look out of place in a real Italian restaurant. As it happens, it has a starring role in an on stage one.
"The second picture is a fireplace that he built for the play Scenes From an Italian Restaurant, which was done by building a frame and then covering it with rejected Regency Panels. He then used a section of the Tuscany Beam from FauxWoodBeams.com and mitered it to actually go around the three sides of the fireplace."
Like what you see? Stay tuned. George promises: "There will be many more projects to come - and many more pictures to come also! One or two of these projects will actually be for an upcoming play in July. It's the Long Island premiere of "The Sting" - and I'll actually be playing a role in it!"
We can't wait to see the pictures - and best of luck on stage, George!