Faux beams aren't just cost-effective and easy to install - they also give you the opportunity to have the look of rare and endangered wood in an ethical and sustainable way.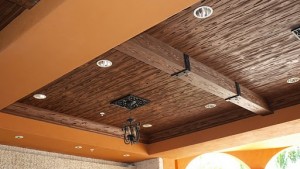 Our Pecky Cypress style products perfectly capture the look and texture of this rare wood.
Saving Pecky Cypress: A Rare Wood Option
When it comes to design, rare is beautiful.
From the Victorian days, in which materials like ivory were highly sought after, to modern kitchens built with marble and granite... the rarer a building material, the more exclusivity and opulence it implies.
But, of course, there are reasons why these materials are rare - in many cases, it's neither ethical or sustainable to endanger species of flora or fauna simply because the materials they supply "look good."
One such example is Pecky Cypress - a deciduous conifer that grows on the water-logged soil of the Southeastern and Gulf Coastal Plains of the United States. Pecky Cypress has a unique 'holey' appearance caused by infection with the Stereum taxodii fungus, which makes for a stunning and unique appeal when cut into planks and used for wall-paneling.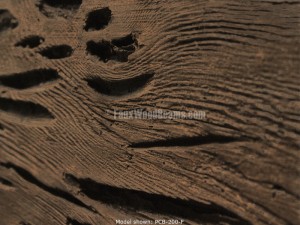 Even close up, synthetic Pecky Cypress is incredibly realistic.
However, this rare wood has been hit hard by overuse in home decor and therefore it's become an increasingly expensive material to acquire and, some would argue, unethical to use for something as frivolous as home decoration.
Which is where our beams come into play.
Faux Pecky Cypress offers the unique look of this rare wood without endangering the trees themselves.
We took one piece of the real thing and created a vividly realistic mold from it; capturing every detail, right down to the smallest grain and indentation.
We then used this mold to create incredibly realistic copies of the wood itself, in tough and durable high density polyurethane. Intricately detailing the beams with colors and hues copied from the real wood, the result is a beam that is practically indistinguishable from real Pecky Cypress; but created from sustainable materials in a way that doesn't endanger those precious trees.
And almost as exciting as being ethically produced, these alternative wood beams are also a fraction of the cost of what the real versions would cost (and that's assuming you were even able to secure a source for them.)
Check out our Pecky Cypress beams here! Available in Unfinished and Walnut Stain.