Rustic Decor Tips : Remodeling with Stone and Brick Panels
One reason customers love our panels is that they have an authentic quality that lends a rustic flair to their homes' interior designs. Read their testimonials below and see how their rustic decor ideas were easily achieved achieved with stone and brick panels.
Elaine used Wellington Drystack panels to upgrade her small kitchen, and the results look great, as you can see below.
| | |
| --- | --- |
| Elaine knew her kitchen needed an upgrade. | Dry stack gives the kitchen's decor rustic charm. |
This product is just wonderful and has transformed my rustic cabin into a touch of class! I had a lot of corners to do, which are not easy because of trying to match lengths. But, I will do the touch up finishing in the winter when I have time for indoor projects! -Elaine, Neebing, ON, Canada
David used our Regency Stacked Stone panels to create a cozy fireplace surround in his basement. The result is fabulous.
| | |
| --- | --- |
| David's basement stairwell wall - before picture | Stacked stone panels create a beautifully rustic fireplace surround |
We wanted to add a rustic and warm feeling to our basement. We recessed an electric fireplace on the wall under our steps and then cut the faux panels to fit around it. Overall it took about a day to do all the work and was not too hard. Turned out awesome!!! -David, Conshohocken, PA
Lee and Sheila used our Wellington Dry Stack panels to give their restaurant a rustic look, so their customers could feel at home. Installing the panels themselves, the couple was very satisfied with how easy the installation process was.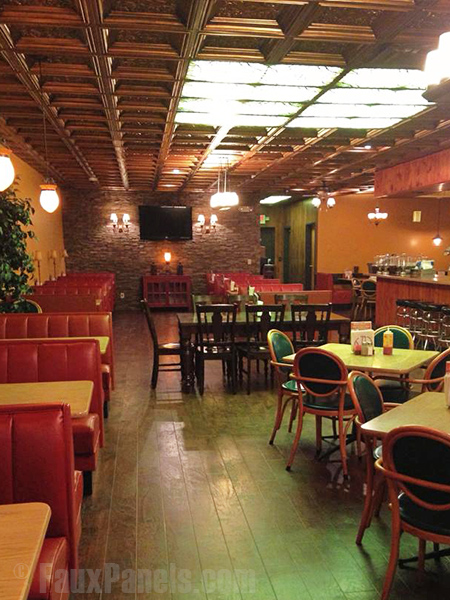 Lee and Shelia's rustic decor ideas for the restaurant were realized easily with Dry Stack
Our Restaurant was established back in the 1920s. We have owned it for about 35 years. We wanted to update to a more modern rustic look so our customers would feel welcomed and more relaxed feel. We installed the panels ourselves and it was very easy, No Problems. We wanted to use your panels so it would speed up the time for install plus a lot less mess and weight. We done our renovation in 6 days, that was being closed of course. It all took about 6 hours to install the panels.
We found you by searching the net and stumbled upon you, we were so glad we did. Everyone thinks its real stacked stone and they can't believe it's a faux product. The response has been overwhelming. We have had many many people wanted your address and phone number so they can order themselves. To sum it up in a nutshell, Beautiful, High Quality, Easiest of Install. - Lee and Shelia C., Prestonsburg, KY
Anne used Regency Old Chicago Brick panels to turn her and her husband's home into a comfortable retreat. She was very pleased with the ease of installation.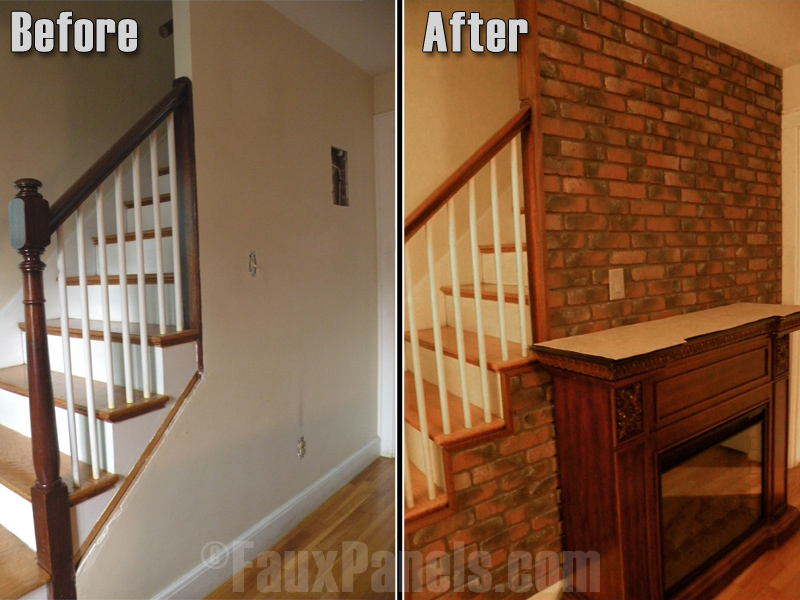 Panels with the look of antique brick transformed Anne's home into a rustic sanctuary.
Our bricks look so amazing and in almost no time our ordinary building was transformed into an appealing rustic sanctuary. My husband could not believe his eyes when he saw me snapping panels together myself — this was so easy to do I'm ordering more! - Anne M., Annapolis, MD
Sue used Oxford Stone Wall panels in Light Tan color to remodel her bathroom. She also decided to be creative with her application of the panels, by adding a mixture of joint compound and sand. This added to the rustic look the panels gave her bathroom.
Stone wall panels gave Sue's bathroom a unique new look
Here a few photos of a master bath renovation using barnsiding and your stone panels. To give the room a more rustic look, we added a mixture of joint compound and sand applied over some areas of the panels to appear like the stone had been "uncovered" in the renovation. We also tinted several of the rocks to vary the colors more. Thanks for a great product! - Sue L
Frank used Norwich Stacked Stone panels on the corner walls surrounding the wood stove in his home. As you'll see in his testimonial, they gave him the exact look he was striving for.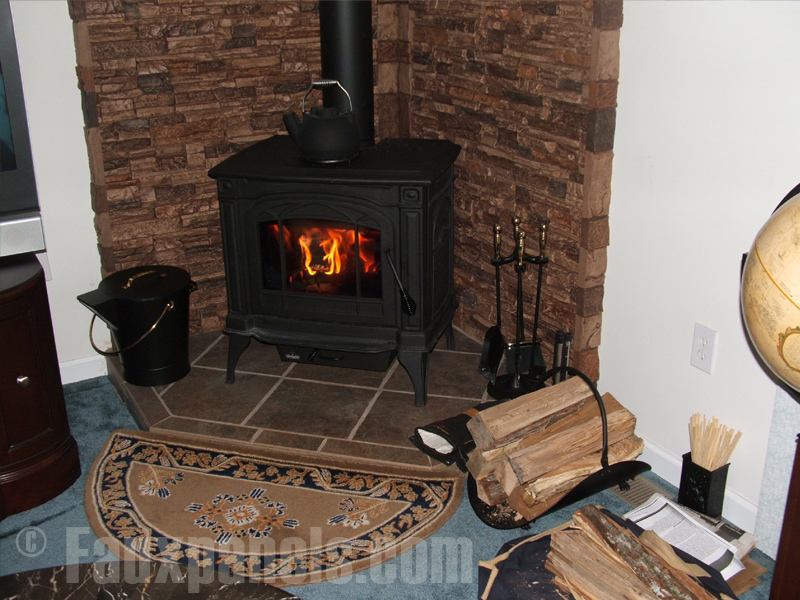 Stacked stone panels installed behind Frank's corner wood stove add rugged appeal
I recently installed a wood stove in my home. I used the Norwich stacked stone panels. The job came out great. The panels are easy to install and give my home that rustic look I was looking for. Thank you. – Frank C.
Could your home's décor use a rustic look? Using stone and brick panels, it's incredibly easy to do.