Bathroom Remodelling: Rustic Look with Regency Panels
FauxPanels.com customer Penny sent in before and after photos of their beautifully rustic bathroom remodel using Regency Stacked Stone panels in Earth color. See how this drab shower/bath was transformed into a sophisticated, welcoming retreat.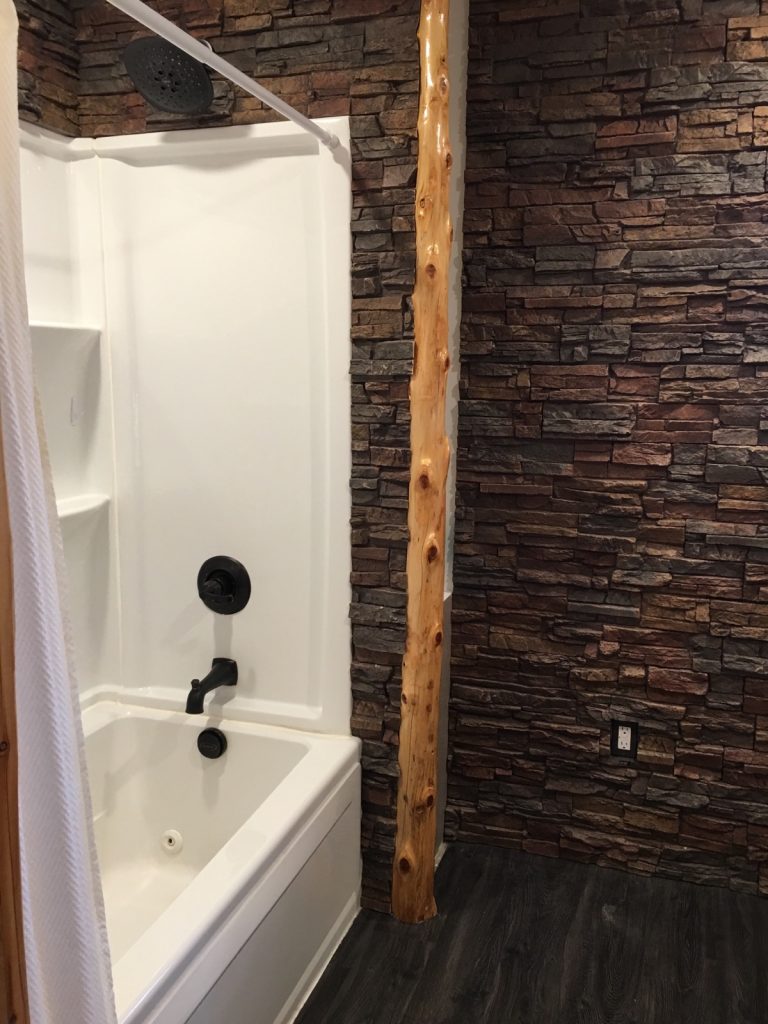 As you can see from the BEFORE pictures, Penny's bathroom was hopelessly outdated. The blue shower/bath cubicle and orange walls were reminiscent of the 1990s, and probably dated back just as far. The linoleum floor was of that curious design that always looks dirty no matter how much you scrub it - and all-in-all, the bathroom had just started to get a little rough around the edges; which isn't exactly surprising after nearly 30 years of use.
The question was - how to update it affordably, easily and in keeping with the rest of the decor of her home; which featured a lot of rustic wood and stone.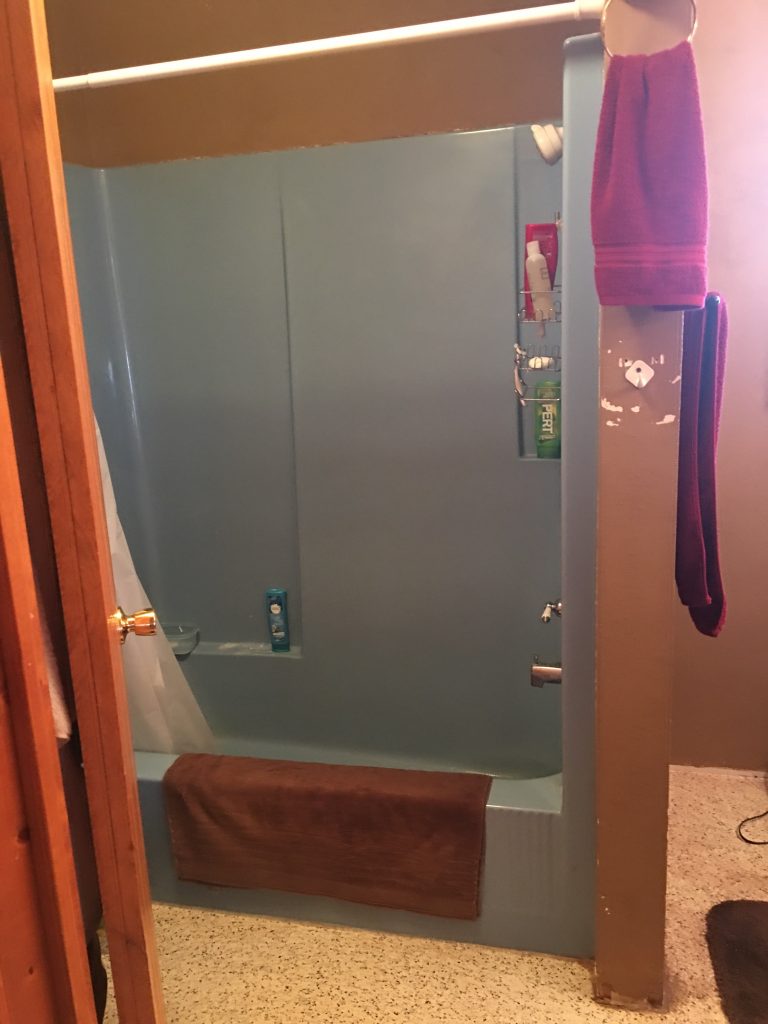 The answer, Penny discovered, was to be found at FauxPanels.com. Penny saw our Regency stacked stone panels and knew exactly what she wanted to do with them.
Her vision was a bathroom worthy of a boutique hotel - with a distinctive style and flair that was both welcoming and practical. At the center would be a brand-new shower and bath unit, in crisp and timeless white, adorned with brushed nickel fixtures. She planned to pair that with hardwood floors and then wanted to do something really bold with the walls; like the stylish stone and brick you'd find in a high-end hotel or show home.
Our faux stone panels were the perfect material to accomplish this. Lightweight and flat, they're designed to install directly onto walls with construction adhesive and glue. The panels themselves are vividly textured on the external side, with three-dimensional patterns molded from authentic stacked stone walls. This means they look incredibly realistic -- a realism that is extenuated by our industry-leading four-color painting process, which finished the stacked stone texture in earth tones that looks just like real rock.
Even better, because our faux stone panels are made from high density polyurethane foam, which a 'closed cell' polymer, impervious to water, they're ideal for use in a bathroom; and won't warp, crack or be susceptible to mold.
The polyurethane material is also easy to cut to size with a regular wood saw, making installation simple and needing only basic carpentry tools. In the case, Penny cut the panels to fit around the edges of the new bathroom fixtures, and also cut a small hole to allow the power outlet to pass through.
What we really liked about this project, however, was something non-standard. At the edge of the bath, the layout of the bathroom called for a pretty tricky corner element, which would have been challenging for even the most accomplished contractor to get right. Penny bypassed the problem by installing a strip of polished tree-branch; which seamlessly covered the corner, and also added a final rustic touch which really brought the whole look together.
We think the bathroom transformation is incredible. All of the different elements come together to create something stylish and timeless. This bathroom will continue to look amazing for years to come, unlike the quickly-dated original.