They say everything's bigger in Texas - and with her second faux product project, Lone Star State resident Holly V. certainly did "go big" and "go home" with our stacked stone panels.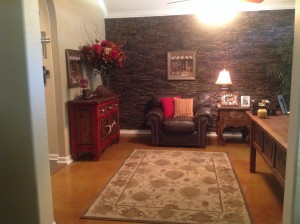 AFTER: The accent wall really brings Holly's home office to life.
Rocking Out with Faux Panels
"I'm a fan of your products," writes San Antonio resident Holly, in an email she submitted attaching pictures of her radical new home office design. "In fact, this is our second project using your products."
Holly and her husband had already added synthetic wood beams from our sister site, FauxWoodBeams.com, in their living room when they decided that their home office needed a spruce up. The answer to their needs? Our Regency Stacked Stone Espresso Panels.
"The rock really makes the room feel warm and cozy," Holly writes. "We are very pleased with the end results."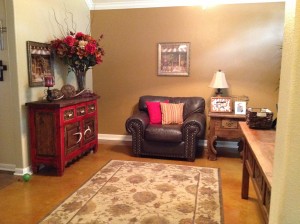 BEFORE: Holly had already attempted to brighten the room with a different color wall; but adding faux panels was the ticket to a really dramatic transformation.
As the "before" and "after" pictures demonstrate, a little goes a long way when it comes to our faux stone panels.
Holly and her husband decided to use our synthetic rock veneer on just one wall in their home office, as a dramatic accent piece. Yet that one wall transformed the entire room.
And the vivid new look came at an affordable price.
Not only were our faux stone panels a fraction of the cost of using real rock or stone; they also took just hours to install, as opposed to days or weeks.
The secret is that our faux rock panels are molded from real rock walls; with every crack, crevice and imperfection vividly recreated in three dimensions in durable molded polyurethane foam.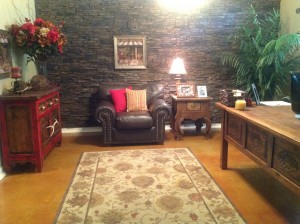 AFTER: From a different angle, you can see how seamless the finished wall is.
As a result of this innovative molding process, each panel looks almost indistinguishable from real rock; but comes in sheets that can be installed directly to existing drywall using nothing but regular construction adhesive and screws.
The best thing about our panels is that they interconnect, so when Holly and her husband installed them it was like putting together a giant jigsaw puzzle on the wall.
The interconnecting segments create a completely seamless join; and the separate panels come together to create the stunning accent wall you see in the pictures.
We're really impressed with Holly's work. What do you think? Let us know in the comments section below.