Here at FauxWoodBeams.com, we're always on the lookout for innovative new products to help homeowners bring their design visions to life. Here's some info on our latest products - resawn ceiling beams and fireplace mantels.
Resawn Mantels and Beams Can Add a New Dimension to Your Home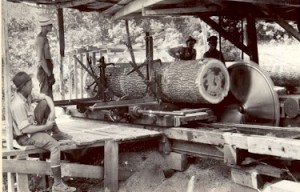 Early internal combustion technology helped mechanize traditional resawing machines.
Thousands of historic homes across America were built using resawn beams - timber that had been cut into planks using the whirling steel blades of traditional lumber mills.
Fully mechanized around 1910-15, resawing gave millions of Americans access to affordable lumber like they'd never had before - leading to a home-building boom.
While sawmills exist today, the imperfections of early resawing technology gave beams and planks from that era a unique and desirable look; making them sought after by homeowners and designers looking to add a little period charm to their projects.
That's why we decided to create our own line of faux wood products, molded directly from original resawn timber to perfectly mimic the texture of these stunning wood products.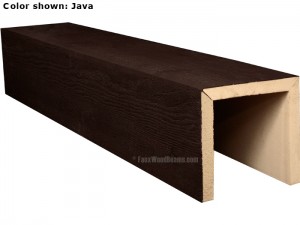 Available in a number of colors, our resawn beams perfectly mimic the classic imperfections of traditional resawn wood products.
We now offer both resawn ceiling beams and resawn faux wood mantels; available unfinished or in a range of beautifully rendered colors that make them virtually indistinguishable from real wood.
Featuring the lightness, affordability and versatility of faux wood - paired with the look and color of the real thing - we can't wait to see what enterprising home decorators do with them.
Don't keep us in suspense. If you've created a design using our resawn timber products, be sure to let us know. Email pictures to info@fauxwoodbeams.com and we'll share them on our website and blog!