The stunning state of Maine is a beautiful place to spend the summer - but it's one of the first places to feel the chill of the approaching fall. This homeowner's wood stove did a great job keeping their vacation cottage snug, but the look of its wall shield left something to be desired.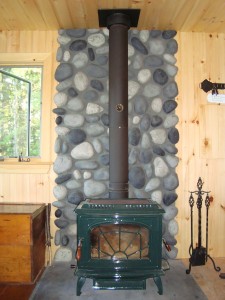 AFTER: Scott's new stove wall shield transformed with River Rock
Wood Stove Wall Shield Remodel with River Rock
Scott L. of Round Pond, Maine needs no convincing that Maine is one of the most beautiful places in America.
The northeastern-most tip of New England, Maine is a land of rocky coastlines, rolling mountains and hundreds of miles of deep, dark forest - one of the most unspoiled places in the first world.
But just as Maine enjoys extremes of geography, it also faces extremes of temperature; with beautiful summers quickly replaced by some of the most brutal winter weather in America. Even as people further south enjoy the last of the summer sun, the cold has already begun to creep into New England.
In order to enjoy his summer cottage in Maine as long as possible, Scott installed a classic Franklin wood burning stove - flanked by structural red brick that absorbs heat and helps keep his cottage warm and snug even when it's brisk outside.
But while the stove is as practical as it gets, Scott thought the wall shield looked a little out of its time; and wanted to make sure its facade matched the feel and decor of the rest of his summer cottage.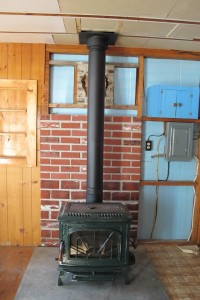 BEFORE: While the red brick looked okay, it lacked the look and feel of true New England craftsmanship.
He found the answer in Regency River Rock panels.
Molded directly from real river rock, the lightweight and durable panels look practically indistinguishable from the real thing; and install directly onto existing brick or drywall with regular construction adhesive and screws.
With their installation, Scott added the look of hand-inlaid, New England stones that had been worn smooth by centuries of fast-flowing water. The effect is vividly realistic; and cost a fraction of what a real rock wall would.
If you've used our products to create something similar, we'd love to learn more. Please share them with us at info@fauxpanels.com - with your permission, we might even post them here!