A homeowner's new stone fireplace was beautifully finished with a Custom Rough Hewn mantel -- demonstrating how realistic our faux wood products look, even when paired with natural materials.
'Going faux' is an increasingly popular design decision, both for customers of FauxWoodBeams.com and our sister site, FauxPanels.com. Technology and innovation continues to make our faux wood and stone products more and more realistic - and our recent decision to bring production right back home to America means that we have even more control over every part of the process.
The ultimate test, of course, is seeing our products in action - and these photos sent to us by the customer they demonstrate exactly what we're talking about.
In this example, the homeowner wanted to renovate their living room fireplace - and used natural stone to cover the entire wall.
When it came to adding a mantel, though, it wasn't going to be possible to use a solid wood beam; as it would have been too prohibitively heavy to be supported by the framed wall. A box beam - made from planks of wood assembled into a beam-shape - wouldn't have provided the look that the homeowner was going for.
The homeowner discovered FauxWoodBeams.com and purchased one of our Custom Rough Hewn Mantels in a beautiful shade of Walnut. Manufactured from lightweight and durable polyurethane foam, the mantel perfectly recreates the texture of authentic rough hewn wood - and our industry-leading painting process ensures that the finished product is practically indistinguishable from the real thing.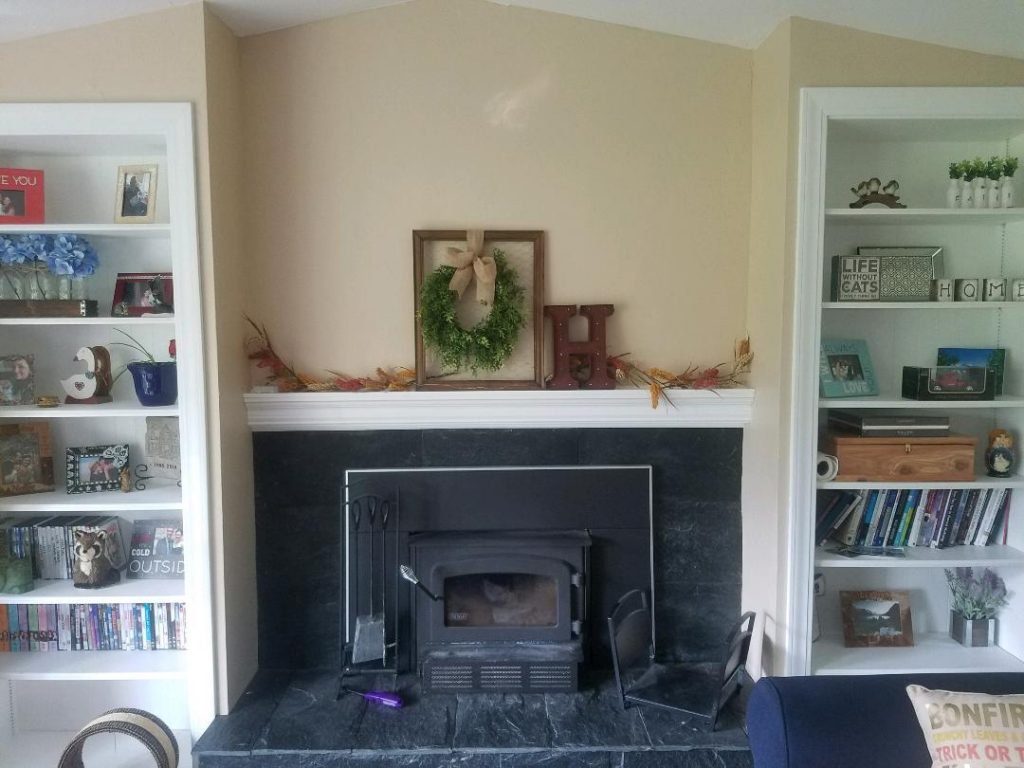 The best part is that all it takes to install the mantel is to secure mounting blocks on the studs beneath the drywall, and attach the three-sided mantel with regular wood screws. The finished product looks great and is even functional when it comes to supporting lightweight items.
And if you want to know how great the mantel looks - the proof is how well it holds its own in comparison to the fireplace's real stone surface.
In terms of cost, ease of installation and practicality, our Custom Rough Hewn Mantel offers significant advantages over real wood - and yet the homeowner didn't need to compromise on looks or functionality; which demonstrates why more and more people are choosing to 'go faux' rather than deal with the headache and hassle of trying to use natural materials in applications for which they're clearly not suited.
We thought this project was beautiful in its simplicity and elegance, and we're thrilled to feature it here - but what do you think? Let us know in the comments section below.