When Daniel Bruce built his brand new home last August, he wanted to add a final detail to the foundation design. Little did he know how affordable and quick that could be, thanks to our artificial dry stack siding.
Using Artificial Dry Stack in Rapid Foundation Design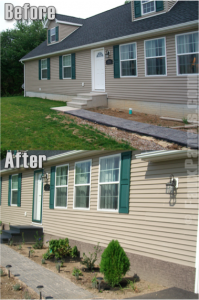 In just a few hours, Daniel transformed the front of his home with artificial dry stack
"We constructed our house last August," customer Daniel wrote to us, including before and after pictures of his project. "We had a poured wall foundation that left approximately two feet exposed in the front of the house."
Although fine as it was, Daniel had a definite look in mind that he wanted to achieve with his new home.
"We wanted a stone look to be added to the top of the foundation," he wrote, "but didn't want to have to pay someone to come in and do this!"
The solution was to be found on FauxPanels.com. Daniel ordered our Cambridge Dry Stack Stone paneling and set to work adding the final detail to complete his house front. Even he was surprised how easy it was.
"After purchasing the panels, it took us only a few hours to install them – in all, 24 panels! And this included having to trim the panels to meet our dimensions."
Like all of our panels, Cambridge Dry Stack can be glued or nailed straight to a concrete foundation – and you can cut it to size with a regular wood saw. Compare that to the hours of painstaking labor – and thousands of dollars in materials – if using authentic stacked stone.
"They were very easy to install," Daniel admits, "and they look fantastic! The only details we had to add were purchasing the dark gray caulking to cover up the seams and finishing touches."
As you can see from the pictures, the results were as impressive as they were speedy. In less than a day, Daniel's home went from bare concrete to beautiful stone; for a fraction of the price of using the real thing.
Daniel signed off: "We couldn't be more pleased with the cost, the work time, and the overall look to our new home!"