Faux panels look great, and are more affordable and easier to install than real stone or brick. But could they also raise the value of your home?
Increasing Property Value with New Siding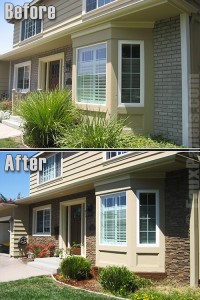 Wellington panels completely transformed this Florida home.
Although the property market's made a substantial recovery since 2008, when people put their homes on the market, most still consider a facelift to attract buyers.
One great option is to use faux panels to replace old and weather-beaten siding. In addition to being affordable and practical - it offers a revolutionary new look that could totally transform your home.
Take a look at these home makeovers accomplished with Wellington Panels. Molded from authentic dry stack walling, they recreate its look and texture - but are made from lightweight and durable polyurethane foam; for practicality and ease-of-installation.
For external application, homeowners need to add drainage mats before installation; to meet building code and help with removing sitting water and moisture.
Once those are installed, however, the panels can be attached directly to the existing walls with regular screws and construction adhesive.
Affordable and easy to install, our siding is a revolutionary alternative to traditional options.
Covering an entire house takes hours or days, compared to weeks.
Obviously we can't promise that a siding makeover will increase the property value of your home - there are many different factors that play a part in that. However, we do have plenty of stories from other customers telling us that the addition of faux siding helped their home's resale value - and given the dramatic and stylish transformation it offers, it certainly won't hurt.
If there are areas of your own home that are outdated or in need of renovation, check out our range of panels and think about which one might look best in your home.