Our column surrounds are a quick and easy way to give your porch columns a timeless, craftsman-inspired look and feel.
Quick and easy Craftsman-Inspired Porch Columns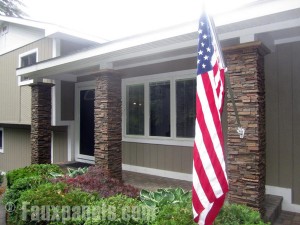 These column surrounds are a quick and easy way to upgrade your home.
For most Americans, only the kitchen rivals the porch as the home's most important gathering place - and one easy way to give it a classic, all-American makeover is to invest in our faux stone column surrounds. (Click here to see all available styles.)
It doesn't matter what your real structural columns are made of - they can be 4" x 4's or steel girders.
These surrounds give your exterior home design the seamless look of hand-stacked stone that's practically identical to the real thing. For adding a little quick and easy character to your house, they can't be beat.
There are two great advantages of going faux when upgrading the look and feel of your porch columns.
The first is convenience.
Our wraps are practically indistinguishable from hand-stacked stone.
The wraps are molded from tough and durable polyurethane, which perfectly mimics the texture of real dry stack, but comes in easy-to-assemble pieces that easily wrap and cover your existing columns. You don't need to do any structural tear down or rebuild.
And secondly, they cost a fraction of what real dry stack would.
Even ignoring the substantial cost of tearing down and rebuilding your existing columns, you'd have to invest thousands of dollars on stone to create this look; and it would take weeks to build instead of just hours.
As these pictures illustrate, the surrounds are a great investment if you want to add a little all-American craftsman flavor to your existing porch.
If you've spruced up your home with them, we'd love to know about it. Send pictures and details to info@fauxpanels.com and we might even feature your project right here on this blog!