Check out this quick, easy and dramatic backyard design project – accomplished using our Nailon Granite Gray Stone Wall panels.
Poolside Design with Faux Stone Wall Siding
There's no better way to enjoy the summer sunshine than by the water – and customers Jane and Jim Sheridan had a beautiful swimming pool to enjoy in the back yard of their Georgia home. But despite the combination of crisp blue skies and sparkling blue water, one thing was stopping them fully enjoying their poolside relaxation: an ugly retaining wall.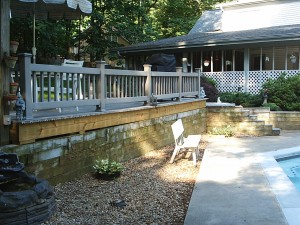 Bare wood got the job done, but this retaining wall was ugly and attracted mold
"It was just plain unsightly," Jim wrote to us, with accompanying pictures of his poolside project. "The wall was made of untreated and ugly wood, which would get damp and attract mold. Trying to cover it was a Band Aid solution to a bigger problem – after a few weeks, the paint would repeatedly peel."
Jim and Jane's options seem limited. The foundation wall did its job, even if it was unsightly, and replacing it with brick or stone would have taken weeks and cost thousands of dollars.
"We were at a loss as how to renovate," Jim told us – until he and his wife learned about our Nailon faux stone wall siding.
Made from durable and weatherproof polypropylene, our Nailon Granite Gray Stone Wall panels install just like regular siding – and are molded from real stone, intricately detailed to look almost indistinguishable from the real thing.
This gave Jim and Jane two important advantages. Firstly, the faux stone panels wouldn't get saturated with moisture as the wooden wall did – making it resistant to ugly and unsightly mold.
Secondly, the Nailon Granite Gray Stone Wall panels looked amazing – giving the instant impression that the Sheridan's serviceable wooden retaining wall was actually created from hand-laid stone bricks.
As you can see from these "before" and "after" photos, installing faux stone panels on the retaining wall instantly transformed the poolside; giving it a clean, beautiful, top-dollar appearance for a fraction of the cost of building a real stone wall.
Even better, the job was quick and easy.
Nailon Granite Gray Stone Wall panels transformed this poolside retaining wall
"The siding was applied as part of one of our weekend projects," Jim admits. "It was breathtakingly easy to install."
Both Jim and Jane are thrilled at the results.
"We've already had so many compliments about how much this has added and improved the area. The wall is a centerpiece of beauty and sets off the area complimenting the deck – we could not be happier."
What do you think of the Sheridan's new poolside view? And have you used our faux stone panels for your own poolside or backyard design project? If so, we'd love to see the pictures. Send them to us at info@fauxpanels.com.