Check out this pool surround idea - a home's small indoor lap pool was made to match its luxurious room with the cool look of Norwich Bleached Coral Stone siding panels.
Just because the summer is coming to an end, it doesn't mean the swimming has to stop. Not for the DeVrie family, at least, who recently sent in this picture of their stunning interior pool room.
Fully climate-controlled, with orangerie-style windows and a patio doorway outside, it's the perfect way to enjoy the water no matter what the weather outside.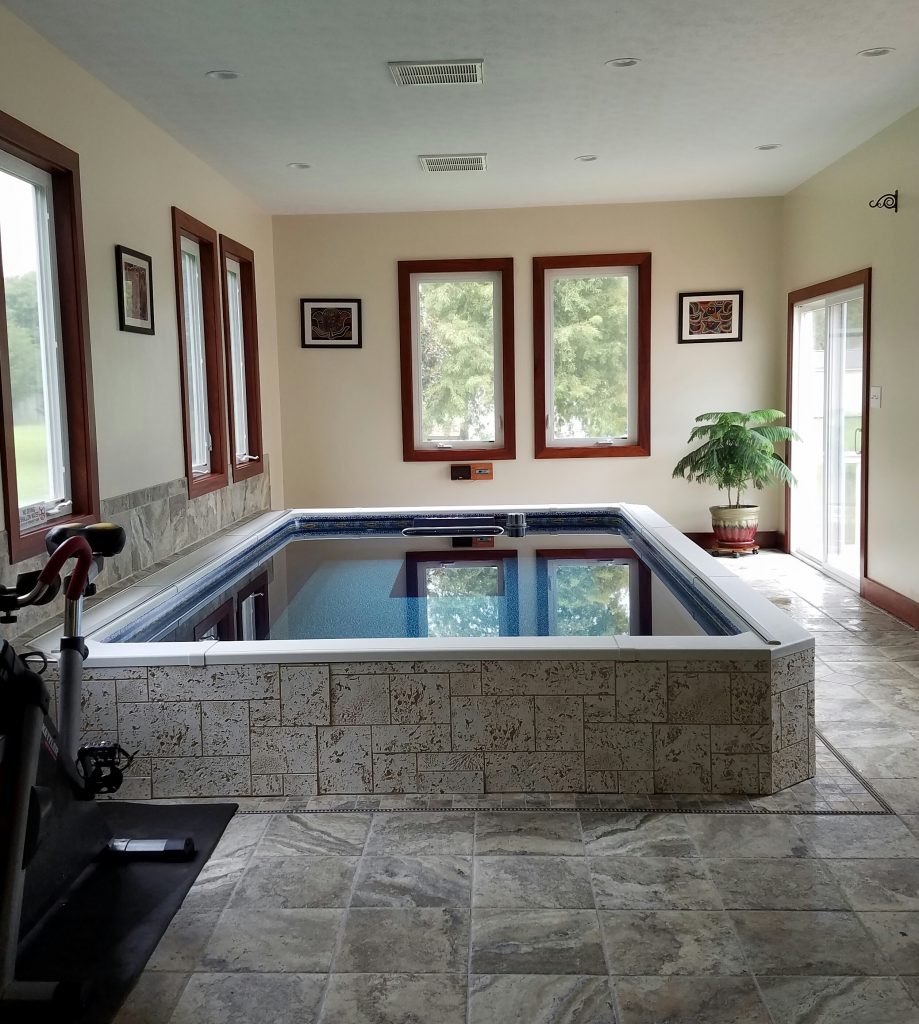 The DeVries indoor pool looks spectacular with the new coral surround.
"Months ago, we bought some panels from your company," writes Virna DeVries, "and I just want to share with you how beautiful our pool room looks now."
The challenge facing the DeVries family was how to affordably and practically build out an indoor pool, yet maintain a stylish and attractive look. A lot of people might have wanted to build a real stone surround; but that would have been prohibitively expensive; and impractical. A lot of pipes, tubes and materials go into a modern pool, and it's less than ideal to install those when there is a stone and mortar surround.
Fortunately, our siding offered the perfect solution. Once the installer had built out the framed surround of the pool - which contained all the pipes and materials - it was simply covered up with the Coral Stone panels. They installed directly onto the frame with screws and construction adhesive, and once slotted together created a seamless stonework design that is practically impossible to tell from the real thing.
Yet at the same time, these panels cost just a fraction of what real stone would; and if there's ever a problem with the pool, they can be removed far more easily; allowing access to the pool mechanics underneath.
The end result looks fantastic, and in combination with the tile flooring makes this room look amazing. We're so happy to share these pictures with you - and Virna's comments speak for themselves:
"Thank you so much for your products and the quality of the materials your company made. I did a lot of research before purchasing the panels from your company, and I'm very happy with the decision I made."
PRODUCTS USED IN THIS PROJECT
Norwich Coral Stone Panels (Bleached Color)