The Internet is great - but if we have one criticism, it's that it really can't do our products justice. That's why we often receive stories like this one; about a woman who overcame her skepticism the moment she saw our product installed on her home.
Plastic Can Look Fantastic: Novi Stonewall Siding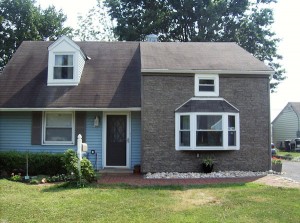 Maureen's home looks amazing with our new faux stone siding installed.
When Maureen L., from Hatboro Pa., first ordered our Novi Stonewall siding, she admitted she was concerned:
"I wasn't sure how it would look on the house, since they're plastic."
But to her credit, she went ahead anyway - and we're happy to report she was very satisfied with the result.
Maureen wanted to give the exterior of her beautiful home a bold new look - but using real stone veneer was out of the question.
Stone work to cover almost half her home would have cost tens of thousands of dollars - not including installation costs, and weeks of work.
Our faux stone products seemingly offered an affordable alternative - but Maureen defaulted to the sensible golden rule: If it sounds too good to be true, it probably is.
In this case, the idea that our molded polypropylene siding could look anything like real stone.
But fortunately, our stone veneer panels and siding are the exception that proves the rule - which Maureen discovered as soon as she saw the finished product installed.
"We were amazed at how it installed so seamlessly," she admits, "and all our neighbors stopped by to comment on how great it looks."
Our Novi siding actually installs just as easily as regular vinyl siding; and can be easily cut to size. But because each panel is molded from real stone walling, they perfectly mimic the look and texture of stone - giving Maureen's house a rugged and timeless look that is the envy of the neighborhood.
We're happy to report that Maureen's story is not an isolated incident. In fact, we receive emails and letters every week from happy customers who are astonished how vividly realistic and seamless our stone and brick veneer products are. The Internet can't do them complete justice; but we like to think our growing library of testimonials and recommendations does.