Game Room Makeover
Over the past few weeks, we've been showcasing a total-house makeover, accomplished using Norwich Stacked Stone panels and products from our sister site, FauxWoodBeams.com. Today we're featuring the home's stunning game room makeover -- a perfect combination of sophisticated decor with fun and relaxation.
When we first received pictures of this project we were obviously impressed, in particular how the beautiful new decor matched the unique layout of the house. In this instance, the mezzanine overlooking the ground floor was redesigned into a game room, complete with a full-sized pool table and bar.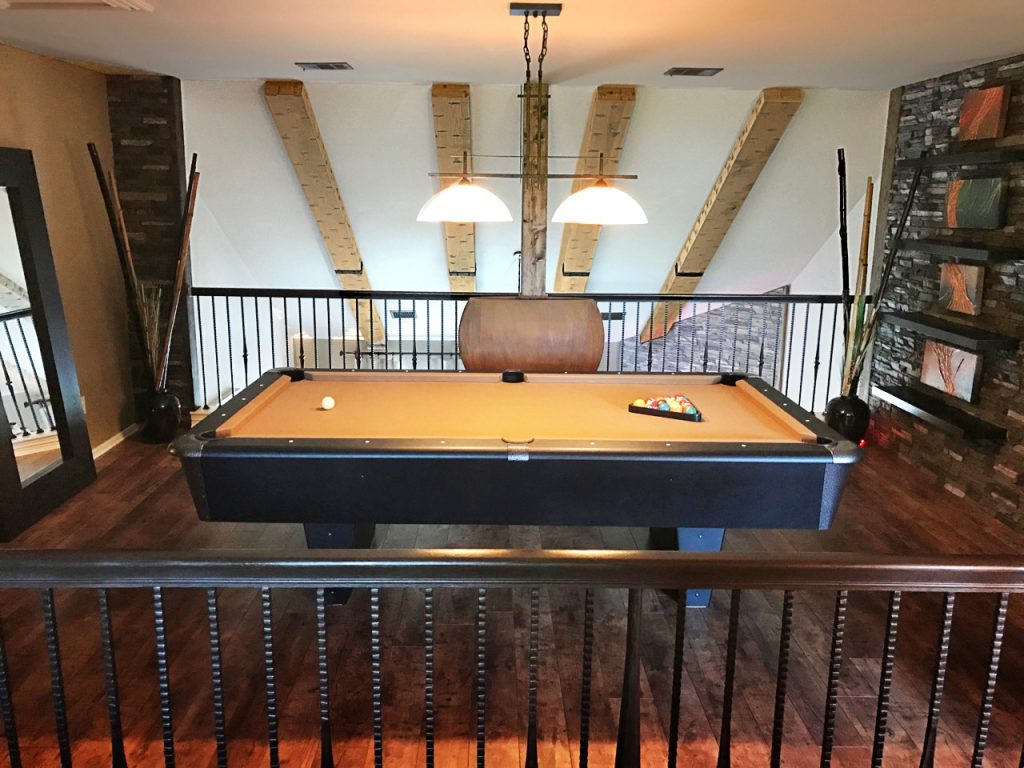 Game Room After
All of the redesigned rooms in the house are winners, but this one is perhaps the most memorable.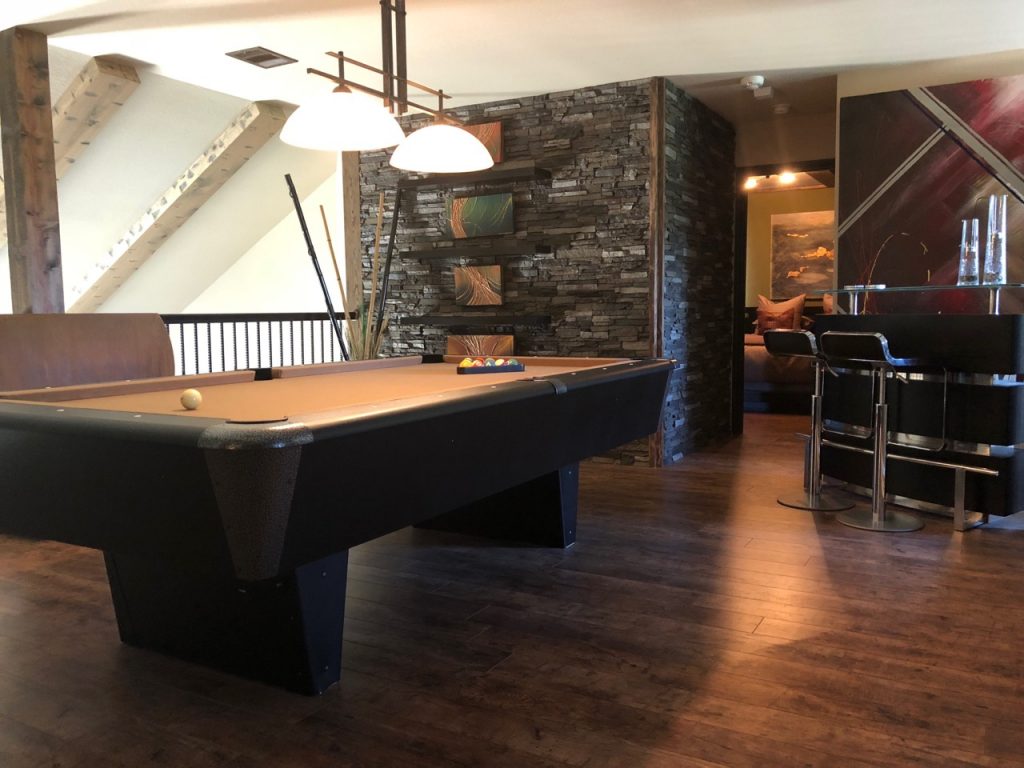 Our Norwich Stacked Stone Panels perfectly compliment the hardwood floors and iron railings.
Norwich Colorado Stacked Stone panels in Iced Coffee color were used to create accent walls around the room, beautifully installed from floor to ceiling and vividly resembling real stone. The contrast with the hardwood floors is particularly vivid - and for a product that has earned its reputation on realism, it's truly impressive just how real these panels look.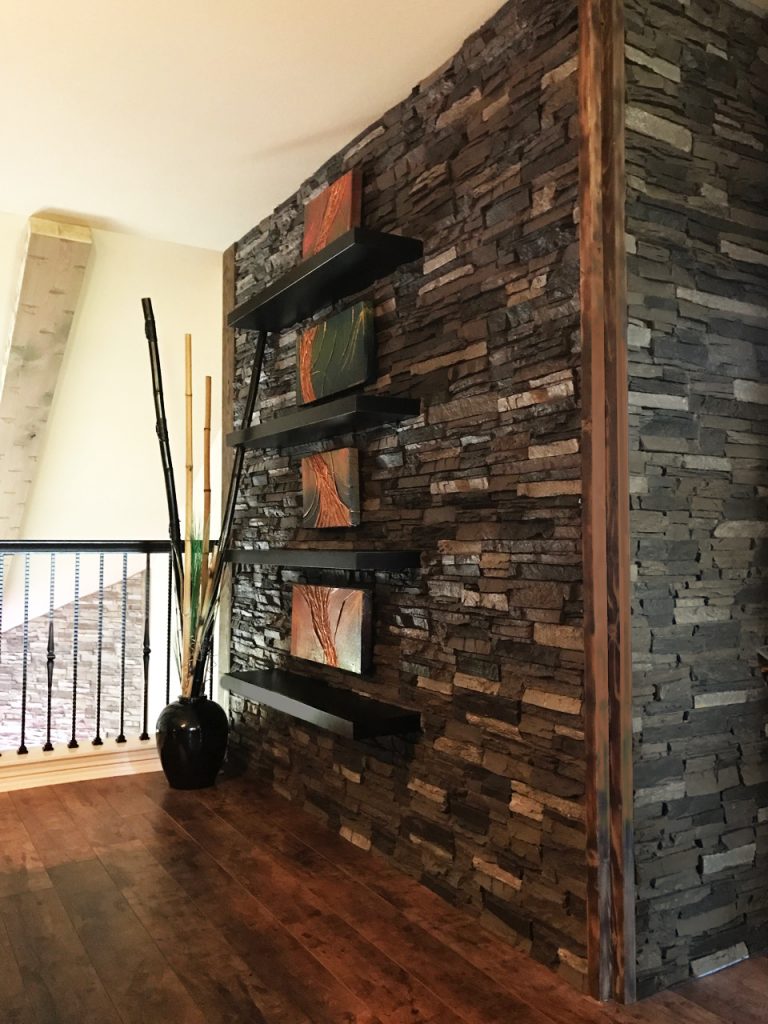 Wooden edging around the panels is a beautiful and practical way to address the wall corners.
One common challenge in panel installations is getting the corners right, and this is where the homeowners really went smart and stylish. Instead of mitering the corners, or using our pre-made corner accessories, they used lengths of wood to edge the corners. In addition to simplifying the whole process, it frames the walls and perfectly complements the hardwood floors; bringing the whole room into an even greater sense of harmony.
The panels beautifully complement the hardwood floors, iron railings and dark floating shelves.
Black floating shelves, wrought iron railings and tasteful artwork adding a pop of color all add to the feel of the room; perhaps my favorite in the entire project. I especially like how the dark pool table and full wet bar match the shelves and iron railings, and how you can enjoy the look of the faux wood beams in the living room and beyond by peering over the edges. It's an exceptional space, and this design suits it perfectly.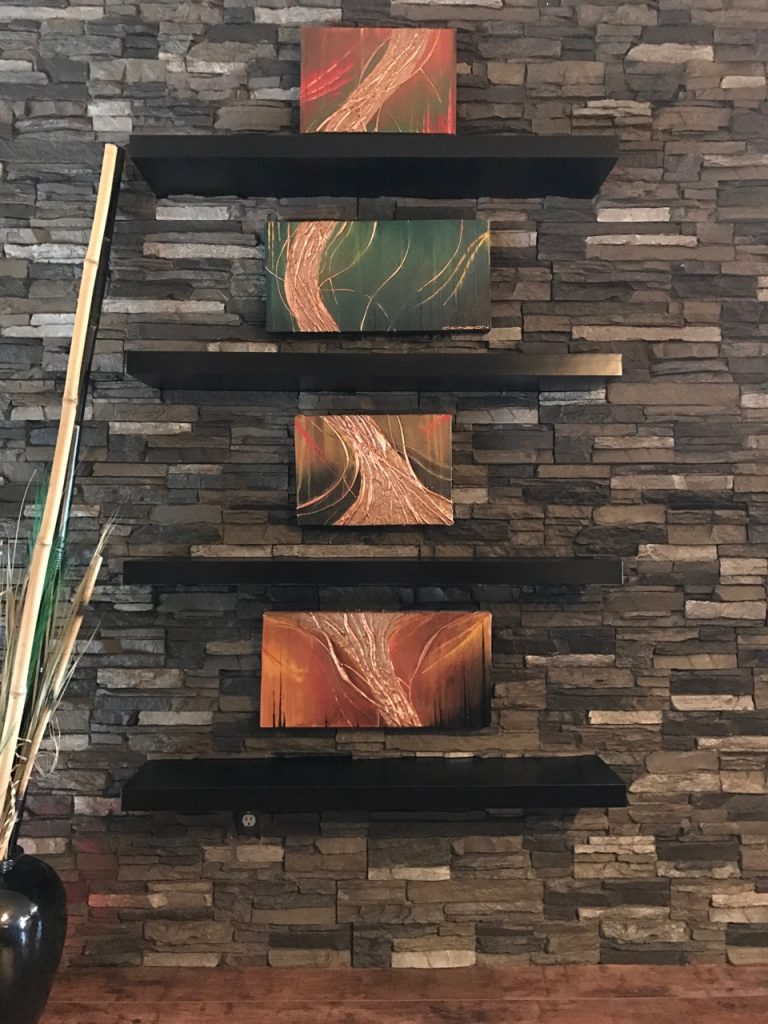 Closeup view of the floating shelves installed over the panels.
But what do you think? Let us know in the comments section below.