Artsy Brick Accent Wall - PBS
A craft corner built on PBS' Make it Artsy included a brilliant accent wall created with our Old Chicago Brick panels.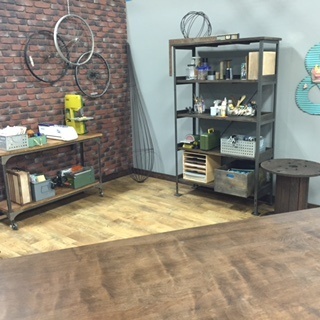 This craft corner was designed with a retro-industrial look.
For years, crafty fans devoured the hit PBS show Scrapbook Soup, to the point that they started to run out of scrapbooking ideas, and investigated other cool, easy and low-budget crafting projects. This led to the re-branding of the show as Make It Artsy - and our panels were featured on their very first season!
In the featured episode, host Julie Fei-Fan Balzer wanted to add an industrial look to a crafting space, using low-budget materials that were easy to install. These included wrought iron stools and shelves sourced from flea markets and the like, plus fixie bike wheels hanging from the wall!
But the piece de resistance has to be the accent wall the wheels are hanging from - which, at first glance, appears to be exposed, weathered brick like you might find in a Chicago or Brooklyn loft space.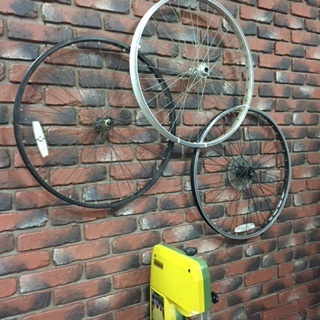 Fixie bike wheels were installed directly over the panels, showing how realistic they look.
But in truth, the wall is actually the same, old stud-and-drywall it was before. The crafty crew merely installed our Regency Old Chicago Brick panels in Antique finish over the flat surface.
Molded from high density polyurethane foam, the panels are lightweight and install in minutes using construction adhesive and screws. Once in place, they're incredibly realistic - until you touch them yourself, it's impossible to tell the wall isn't made from authentic brick.
And in keeping with the concept of Make It Artsy, the panels themselves are very affordable. They cost a fraction of what real stone or brick would, and even for an entire wall like in this project, remain within reach the scope of even the tightest budget.
What do you make of the end result? We think the 'maker space' looks great; and we're thrilled that PBS chose our products to help Make It Artsy.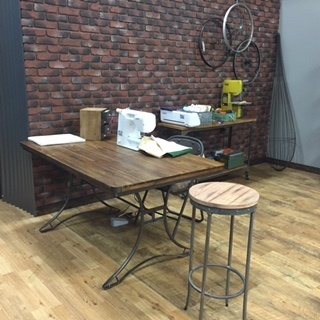 With industrial furniture to round out the concept, the space has a really authentic hipster vibe.