Paneling provided by FauxPanels® has been featured on major TV networks, in a number of popular home makeover shows. These include ABC's Extreme Makeover Home Edition, DIY Network's Man Caves, NBC's The Apprentice, HGTV's Curb Appeal, Food Network's Restaurant Impossible, and more. Below, you'll see a few of our favorite short videos of the panels showcased on ABC's Extreme Makeover, the DIY Network's Man Caves, the Food Network's Restaurant Impossible, and HGTV's Curb Appeal. Watch them and get a real-world view of all the design possibilities. You'll also get an even better idea for how fake brick and wood panels can rejuvenate any interior or exterior.
Brick veneer wall paneling is an easy way to create an appealing decor.
Extreme Makeover: Home Edition, The Creasey Family The design plan for the room featured in this family's home was to create the style of a romantic Paris street. To make one of the walls look like a building's exterior, white brick veneer panels were cut and installed easily with glue and screws. With crown molding bordering the panels just short of the ceiling, the appearance of a rooftop was nicely conveyed. To complete the effect, four window-pane picture frames and a street lamp-style light were added on top of the panels.
DIY Network: Man Caves This project on DIY Network's Man Caves used our panels to create a unique room with a mix of styles. The owner of the home had several hobbies he wanted to incorporate into his design, including a mahjong table and karaoke, along with some elements of his home culture. To create an old-world Asian feel, he decided to use our Barnboard-style panels to create his "Shanghai Man Cave."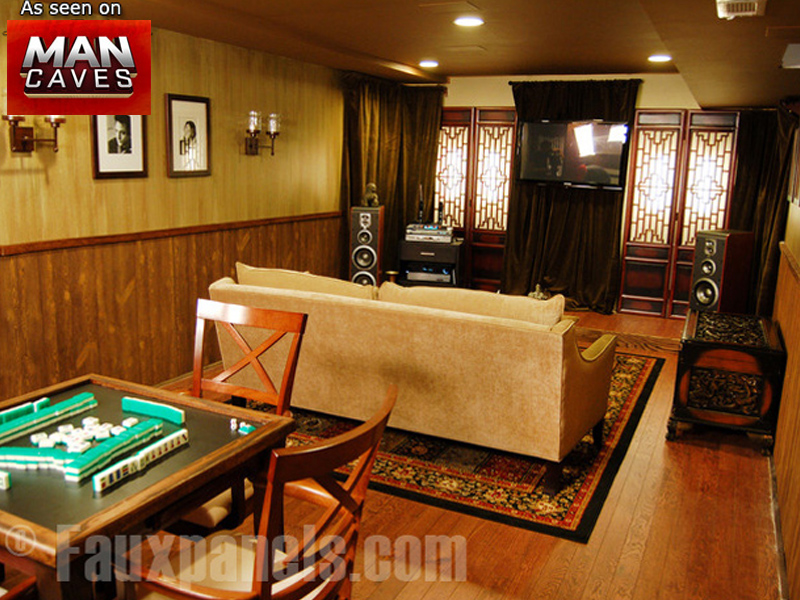 Our fake barnboard wall paneling is a perfect design element for this man cave.
Restaurant Impossible: Season 9 Episode 7 White brick veneer helped Restaurant Impossible put a brand new look on Renae's Corner restaurant in Titusville, PA. Renae, a single mother, first bought it as El Bistro years earlier. Three years later, her savings are depleted, and she's behind in taxes. When Chef Robert Irvine walks through the door, it's obvious to him that Renae has given up. Just as she's getting ready to sell the restaurant and walk away, Robert calls her bluff, cash in hand. The rest is an inspiring success story. And FauxPanels® is proud to have played a part in reviving Renae's dream.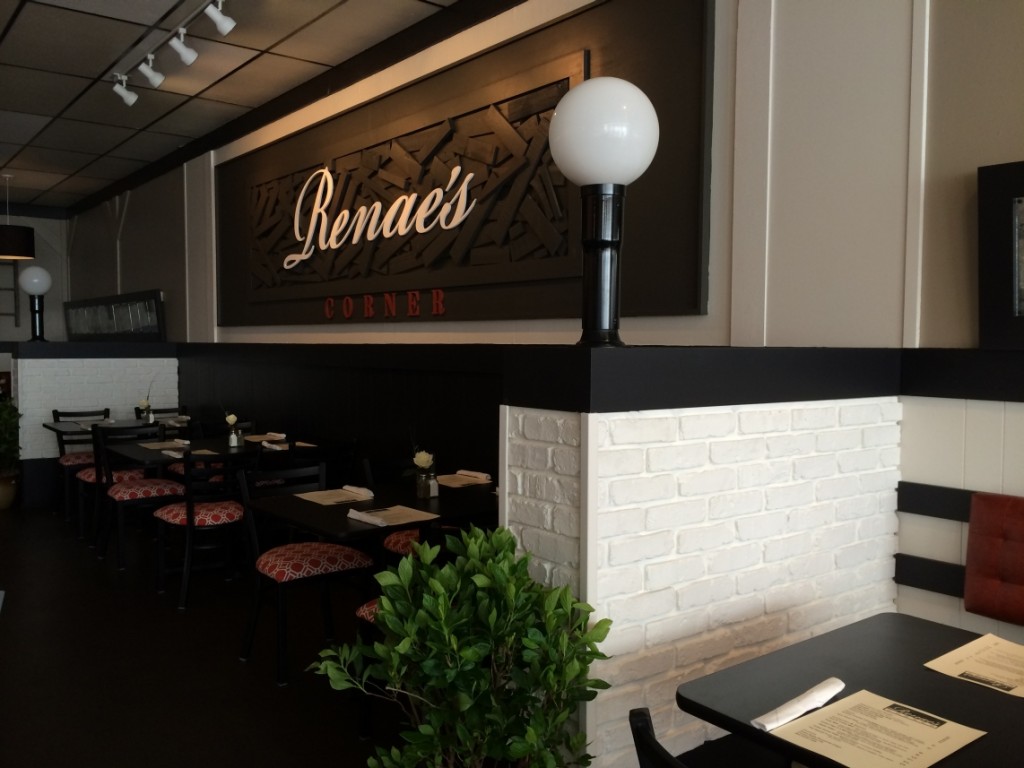 Renae's restaurant renovation got a refreshed look, thanks to artificial brick wall paneling.
HGTV: Curb Appeal In this episode of HGTV's Curb Appeal, FauxPanels® arrives on the scene.. Easy to cut and simple to install, these brick panels are ideal for DIY projects since they're so much lighter and more cost-effective than the real thing.
To see more TV show clips featuring our products, click here.