FauxPanels.com customer Mike Irwin lives in Northwestern Arkansas, where the warm summers and cool winters make for months and months of perfect outdoor entertaining weather. To that end, this DIY'er wanted to create a fully-featured patio kitchen to entertain friends, family and neighbors - and wanted it to have a distinctive and stylish look. A stone finish was his first choice - but in the email that accompanied these stunning photos, Mike explains why he didn't go with natural stone:
\"I wanted something that looked authentic - but I also wanted something that was easy to install."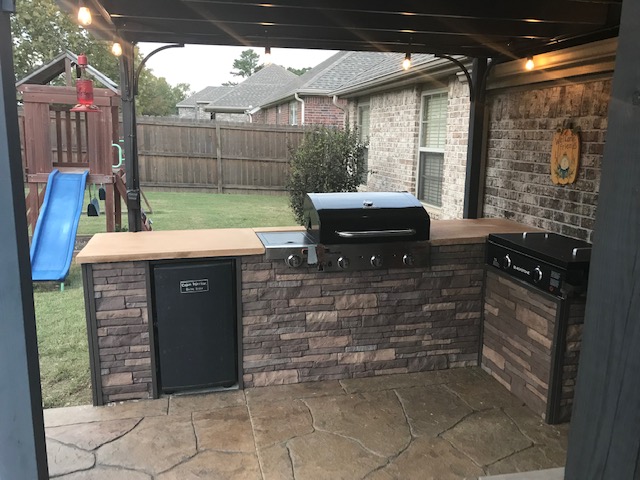 Mike's finished patio kitchen is perfect for outdoor entertaining, almost all year round.
Real stone is obviously as authentic as it comes - but not easy to install. In fact, to build a kitchen unit out of stone would have taken a major investment in raw materials, and then hours of labor from a skilled masonry expert. In addition, once the kitchen was finished - it wouldn't be going anywhere! Real stone weighs hundreds of pounds, and would need to be secured with mortar and concrete.
Fortunately, a much better solution presented itself - and Mike was excited when he discovered it.
"Your faux panels worked exactly as described and look perfect."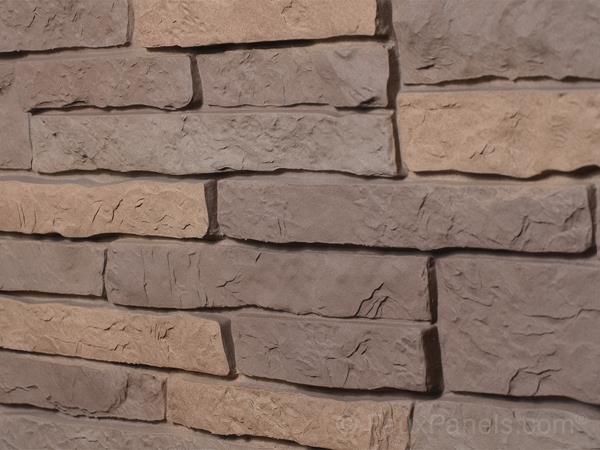 Close-up view of Nailon Stone Wall Plus in Sedona Buff.
Mike selected our Nailon Stone Wall Plus siding in the stylish shade of Sedona Buff. Made from a lightweight and durable polypropylene material, the wall paneling was the perfect choice for his kitchen because they could be trimmed to size with regular woodworking tools, installed using universal Starter Strips, and offered a weatherproof and lightweight finish that looks just like natural stone.
"My family and friends simply cannot believe how great they look," Mike writes.
The Sedona Buff finish is inspired by the sandstone of the Schnebly Hill Formation in Sedona, Arizona. This is a uniquely-hued type of stone that is almost unique to that part of North America...
...almost...
Interestingly enough, Mike lives on the boarder of the Ozark Plateau, a huge mountain range that extends across Arkansas, Missouri, Oklahoma and Kansas. In his region, the local rocks include red-hued Roubidoux sandstone and rocks colored by Rhyolite - which presents itself in a red color similar to the sandstone of Sedona. By choosing that particular hue, Mike's kitchen fits right in with his neck of the world.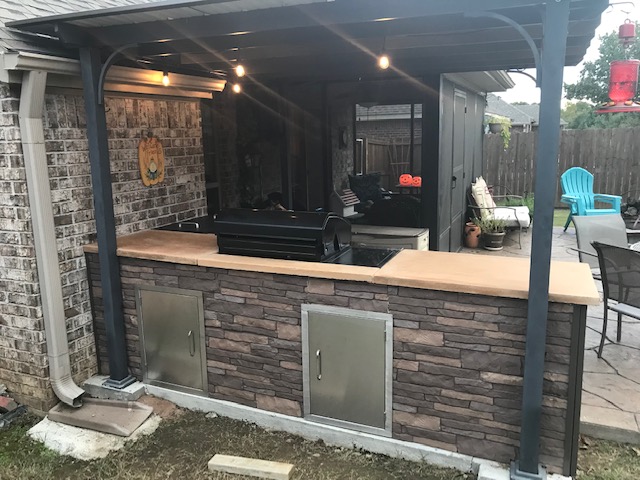 The panels are easy to cut to around doors and compartments.
It's this sort of attention to detail which really makes a project work, and while Mike writes: "thank you Faux Panels for helping me make a lasting project look even better" I think it's also worth highlighting how his careful thought and eye for detail was what really put this project over the top. We love it!