The vaulted ceiling design in Ameristar Casinos' Swimming Pool has a stunning look with our Custom Woodland beams and panels. We're not supposed to play favorites with our Faux Panels®, but it's hard sometimes. Most of the commercial and home remodeling pictures on our web site come from customers, and we know they put their hearts in their renovation, but some really speak to us. This is why we made a photo gallery of
our favorite photos
. With thousands of photographs on our web site, it's easy to become overwhelmed. We wanted to make sure you had easy access to the best of the best for project ideas. The Favorite Photos gallery features a mix of large and small projects, indoors and out, residential and commercial. If you're a homeowner looking for design ideas, don't skip past the commercial projects. They can easily be adapted for home use. For example, Ameristar Casinos used our Woodland Walnut panels and fake beams from our sister site, FauxWoodBeams.com to create a stunning arched ceiling design over its indoor pool. That might be impossible for your home, but you could bring the rich look of wood to your bathroom renovation without rotting, warping or termites that can come with real wood.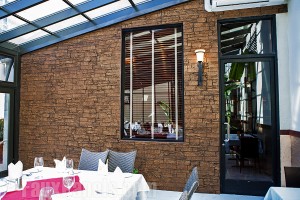 The Porterhouse Restaurant uses our Cambridge Stone Wall Tan panels to accent its exterior. Similarly, the accent wall the Porterhouse Restaurant made with our Tan Cambridge Stone Wall panels could be duplicated in any home with spectacular results.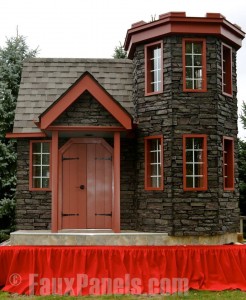 Venture Crew 360's Dream Castle accentuated with our Oxford Ledgestone Gray panels. The Venture Crew 360 created a gorgeous play house to auction off as a fundraiser for Make-A-Wish™. That same design with our Oxford Ledgestone Gray panels could be used on a private home, making it feel like a castle.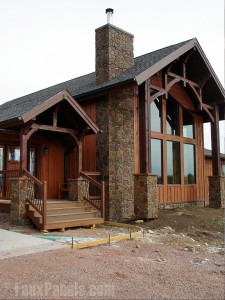 Carlton Fieldstone Harvest stone veneer panels create an impressive chimney and exterior column design on this home. Of course, we didn't just pick commercial photos. One homeowner used the Carlton Fieldstone Harvest Faux Panels® to cover their chimney and lower columns to create a stylish exterior. And the Oxford white faux brick used in the San Francisco bedroom renovation has become very popular. Simple, elegant, classic, it adds a lot of style without dominating the bedroom's décor. As you'll see, this new photo gallery has a wide range of design ideas for virtually any style of home and any taste in décor. Whether you want to boost curb appeal, give a difficult wall a facelift, add rustic charm to a room, etc., you'll find an idea that will inspire your next DIY project. So check out Our Favorite Photos page and make sure to bookmark it. We'll be adding to it regularly.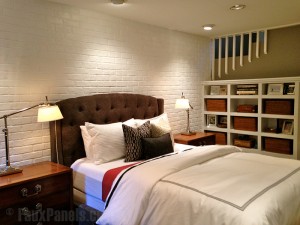 Oxford White Full Size Worn Brick veneer panels give this bedroom a uniquely cozy feel.