We recently received photos from two great projects completed by customer Sandy Petter and her family. Check them out!
\"My son Travis and I have worked on two projects in our basement using your faux panels," writes Sandy Petter. The first project was an old entertainment center that we cut in half and built a bar out of. The second was a backdrop to our gas fireplace stove."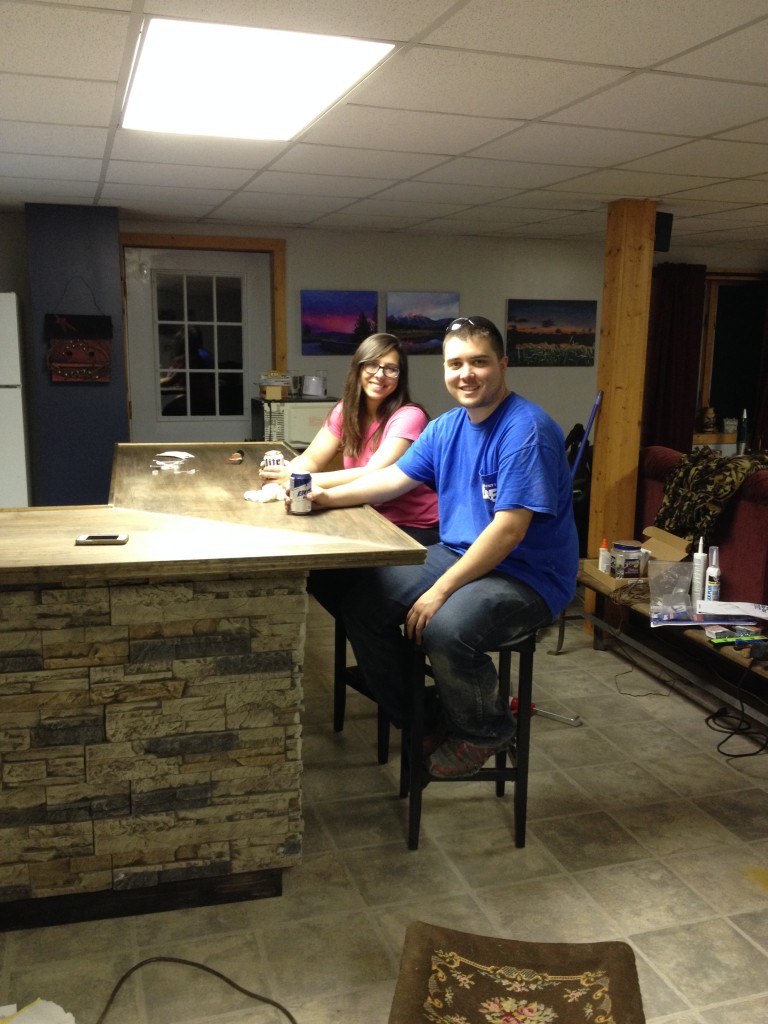 Cheers! A home bar masterpiece! The panels are a popular choice for finished basements, as they provide the look of stone or brick, which is common and desirable in a foundational space, without having to actually hire an expensive masonry expert, or pay for the expensive materials and labor you'd need to install them. Sandy's bar project looks great, and was straightforward to put together. "The facing was done with the panels from your company.  We had a great time putting it together, and the bar turned out to be really eye-catching when we finished it all.  We have a lot of family parties in this area, and everybody who attends spends time commenting on the bar, and how they love the stone work."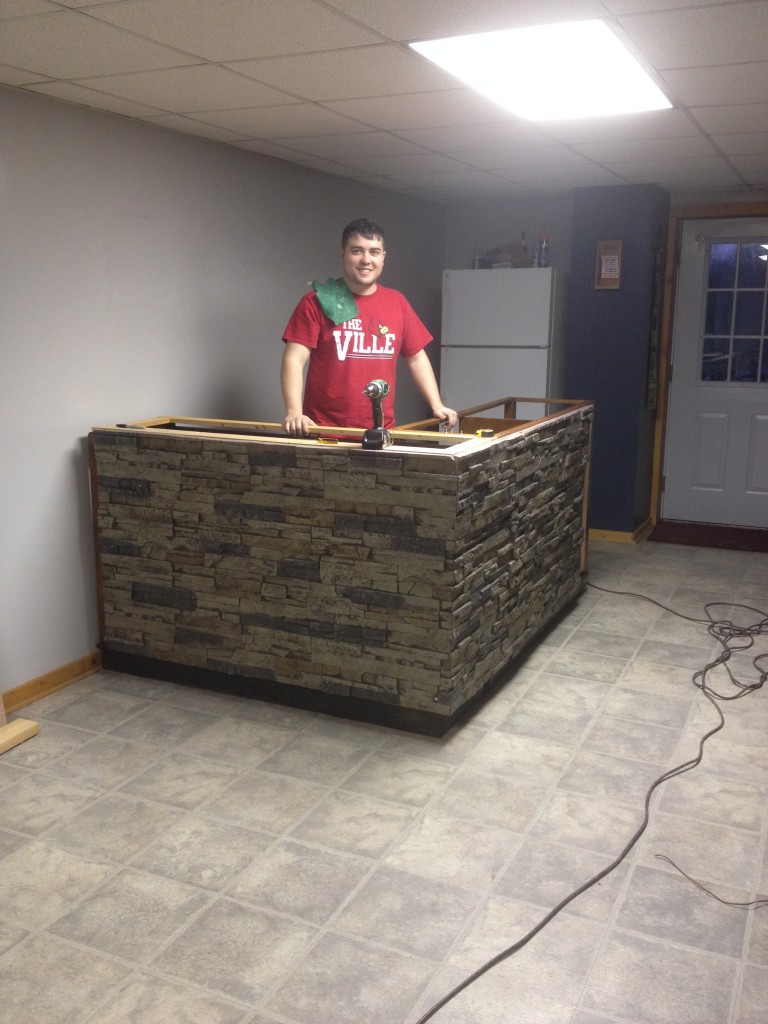 The panels could be cut to size with a regular wood saw, and are designed for a seamless finish. The bar started life as a regular wooden frame, which the panels themselves were then attached to. Because they're made from lightweight and durable polyurethane foam, Sandy could easily cut them to size with a regular wood saw.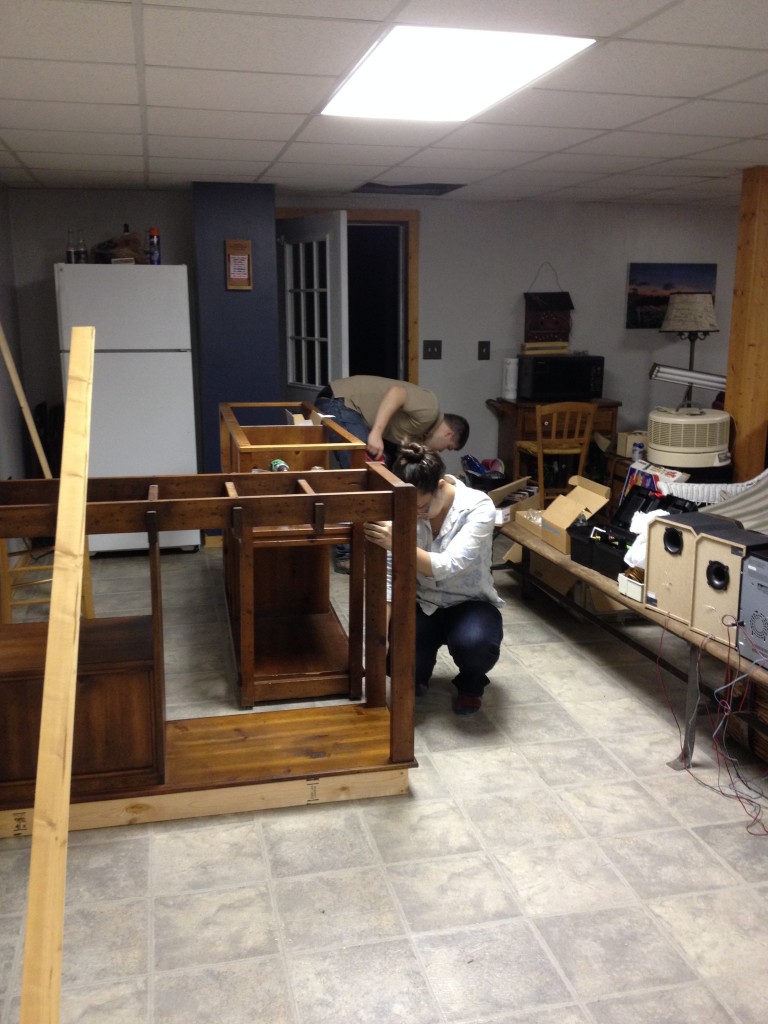 Adding the panels to the bar frame, with adhesive and screws.
A wooden counter-top completed the look. "After finishing that," Sandy writes, "we had just enough left to do a back drop for our gas fireplace stove. " Accent walls are a popular choice for our panels - and fireplaces are especially appropriate as they are traditionally made from stone or brick. "The wall already had a bump out where pipes were coming in the wall," Sandy explained, "so we covered the whole wall section with the panels and added some trim and a mantel.  Looks just like we planned it!" What's unique about this is that the mantel itself was
also
made from a panels - although if they wanted a more traditional look, they could have found one at our sister site,
fauxwoodbeams.com
.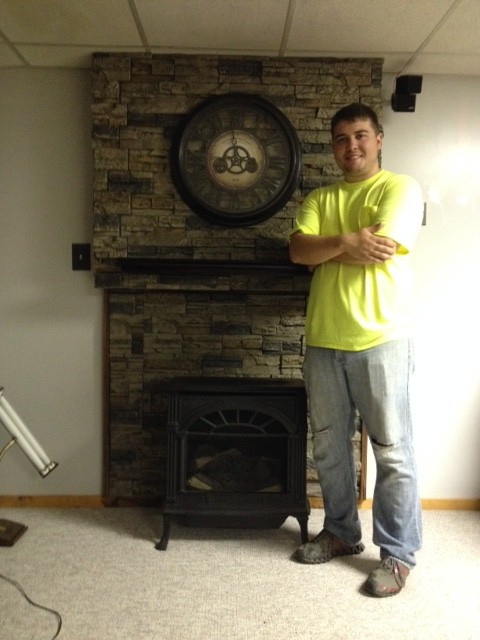 Sandy's fireplace was a triumph of faux panel ingenuity. In any event, Sandy's projects look fantastic - and she's clearly been bitten by the faux panel bug. "Now we are thinking of our next project!" She admits. "We love the ease of the panels and the finished look is exceptional." We can't wait to see what Sandy comes up with next.