We recently received these photos of a office makeover that reiterated how well-suited our stone, brick and wood style panels are for commercial applications.
The offices of MainStay Solutions - a one-stop-shop IT consultancy based in Fort Wayne, Indiana used Norwich Stacked Stone panels in the Everscape color to completely resurface the walls of their reception area - converting a bland office into a stunning showpiece that represents what MainStay Solutions does best - think a little differently, and deliver a little more.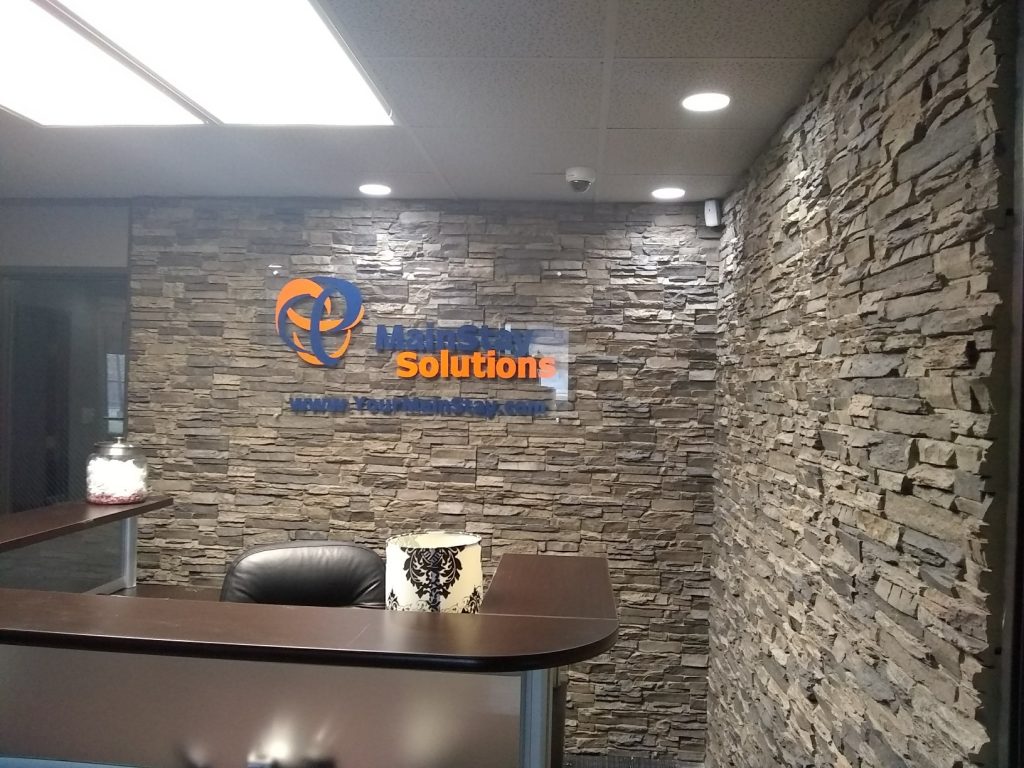 On the surface of it - no pun intended - this is a great makeover to showcase. We love how the stacked stone style adds a whole new design element to the room, and the panels are beautifully installed. In applications like this, its important to get the corners just right and this project is a great example of how to properly angle and miter 90 degree concave corners.
But to our minds, it demonstrates something else - how appropriate FauxPanels are for commercial applications.
One of the biggest challenges any business faces when they try to personalize their office or showroom space is staying compliant with the requirements of their lease agreement or building code.
For businesses that rent office space, especially, you can't just go around adding rock walls and stone siding. Not only would it be prohibitively expensive and impractical, and make no sense as an investment (because you don't own the property) - but, most likely, it would breach any agreement a business has signed about what is and isn't allowed regarding the decoration and customization of rented space.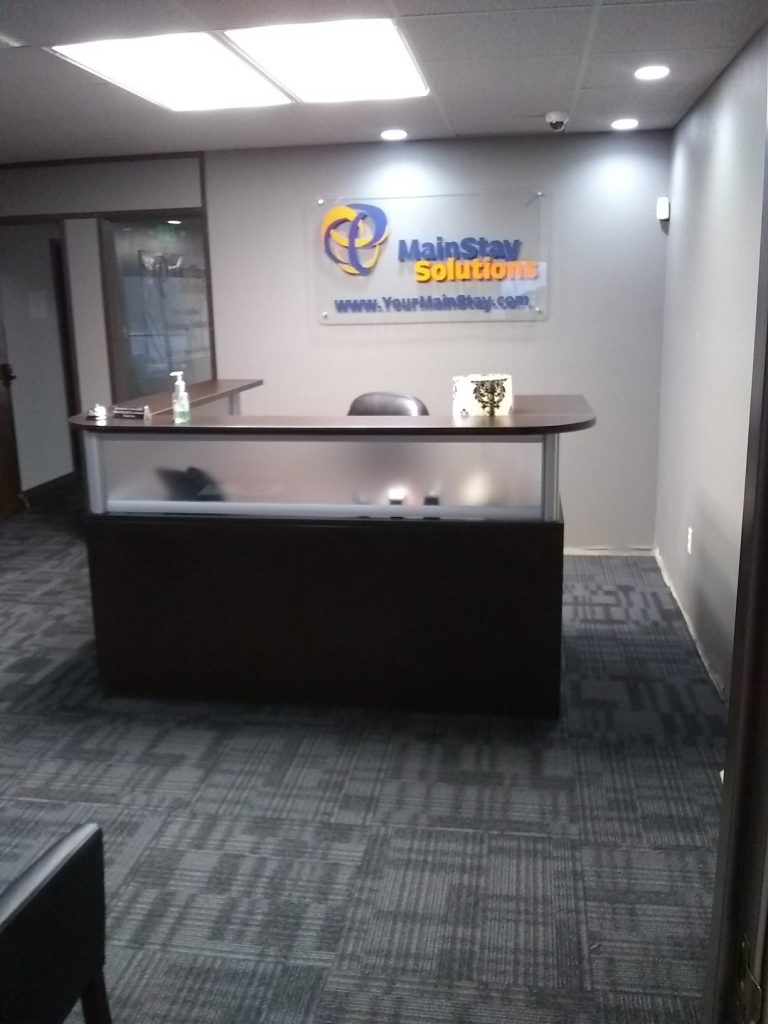 BEFORE
That's where the beauty of faux comes in.
First, the panels cost a fraction of real stone, brick or wood materials.
Second, they're incredibly quick and convenient to install. These Norwich panels, for example, are three feet fall and nearly four feet wide - meaning in just a few minutes you can cover 12 square feet with a vividly realistic stone texture; whereas to place real stone elements piece-by-piece would be a painstakingly laborious process and take hours.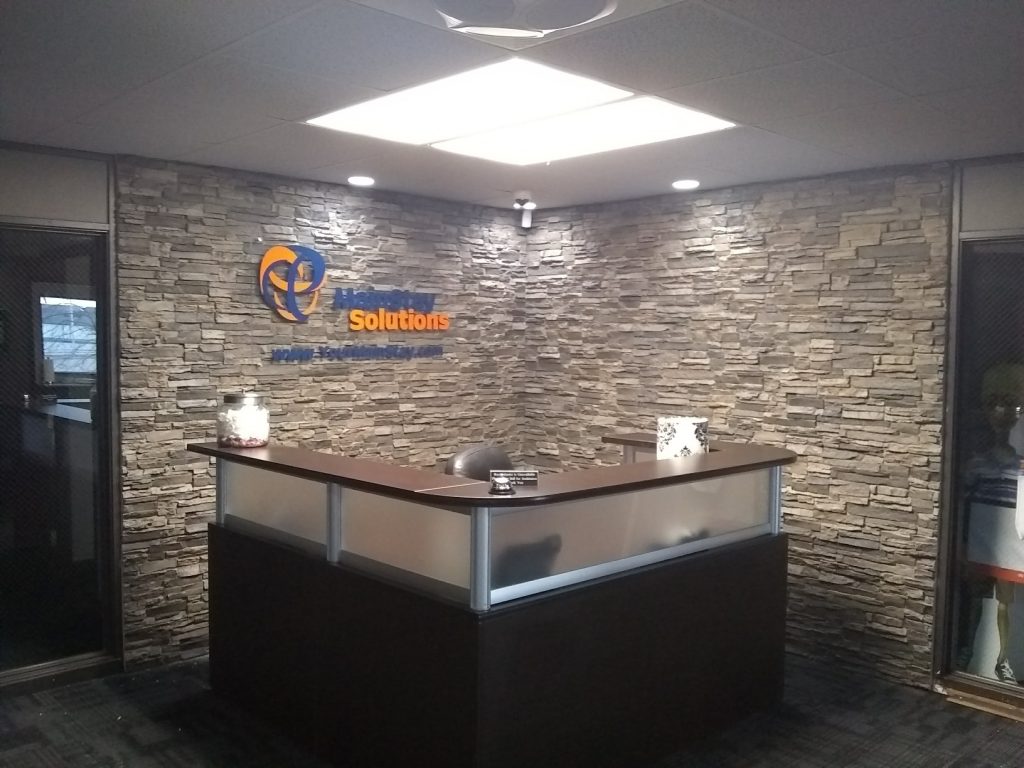 AFTER: This was a textbook installation, and they did a really nice job on the corners.
And third - and perhaps most importantly - the panels can be removed following installation in a way that real stone or brick couldn't.
Obviously, our products are not designed to be removable. In fact, we have customers who installed our panels in their homes decades ago, and they still look as good as the day they were purchased. But, it is worth noting that these large panels can be taken off the walls they were installed on and allow for sanding and filling, which means that should a business decide to move locations, they can quickly and affordably return the property to rental-ready condition.
Because the panels can be cut to size and drilled with regular carpentry tools, it was easy to install the company sign right over them.
This is why FauxPanels are very popular in storefronts across America - as mall locations have a fairly frequent turnover of businesses occupying each storefront, and the panels enable a business to set up a stunning interior quickly and affordably, and strip it all away when they move.
Thanks to this flexibility, our panels are ideal for commercial applications - and these pictures from MainStay Solutions demonstrate what an enormous difference they can make to the look of a customer-facing location.