Renee of New York City recently related her story to us of how she gave the living room of her 17th floor apartment a makeover. Her goal was to create the appearance of an exposed beam ceiling to complement the apartment's rustic décor.
New Beamed Ceiling in NYC Apartment
When she discovered faux beams, she knew she found what she needed. Brimming with enthusiasm, she described the process of how she found our products, all the way up to the finished result of her new living space.
"I accidentally found fauxwoodbeams.com while swimming around the internet looking for design ideas for my NYC apt," she told us. "After having visited the website multiple times, I decided to purchase 4 beams for my apt living room. "
In the picture below, you can see what her living room looked like before she installed the beams.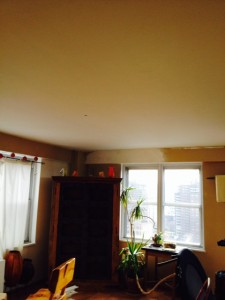 After making the decision to order, she called our customer service department with queries she had about shipment and installation. Once we promptly answered all her questions, she felt the reassurance that her DIY project would be everything she wanted it to be, and accomplished it with no delay or hassle.
"I made a number of calls and the very lovely, patient gals answered many questions I had as I live in an apt building on the 17th floor," she exclaimed.
Because of their length, she told us, "the beams would not fit in the elevator, so delivery and getting them up here was a concern."
Even though the elevator in her building could not accommodate the beams, she was pleasantly surprised at how lightweight they were. She said, "The beams arrived and my girlfriend and I carried them up 17 stories, thankfully they were light as a feather."
As for the delivery of the products, she wrote us to say, "Fauxwoodbeams used a great service for delivery as they were also very helpful in regards to the 48 hours I had to schedule delivery (curbside only). They assured me if I couldn't arrange to make it happen in that time frame, not to worry."
Once the beams arrived in her apartment, she was ready to install them. Recalling the process, she said to us that "the beams were a cinch to install."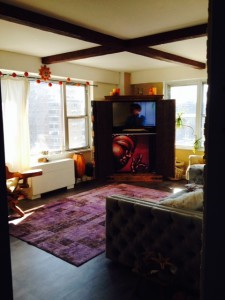 She went on to describe that a dozen blocks of 8" 2X4 pieces were "drilled into the ceiling in a cross pattern" and the ceiling beams "slipped over and nailed to the blocks." You can see the whole installation process captured in the short video she sent us. The picture to the right shows the final design.
Her final comment about the difference the beams have made for her apartment says it all:
"No one believes these beams are not real. I have unique taste in design and honestly have to say these beams are one of the most beautiful things I have ever had in ANY of my spaces. WE LOVE OUR FAUX WOOD BEAMS!!! They add soo much to the design of the room. Thank you for making such a cool, quality product."
Below, you can view the video she sent us of her installation: