Not all faux is created equal - and we've made a video to explain the five things you should look for before ordering panels for your interior or exterior design projects.
There are many options on the market if you're thinking of adding the look of stone, brick or wood to your home - but as our video demonstrates, there's are very good reasons why FauxPanels.com has been the industry leader for over four decades.
https://youtu.be/46nJIo4ruAY
FauxPanels.com is a company you can trust.
Trust is everything - and the reason we've been in business for over forty years is because we always put our customers first. We offer the best products paired with the best customer service; to make sure we deliver on every promise we make.
You don't need to take our word for it. We have hundreds of pictures of our products installed in people's homes and businesses, and pages of customer testimonials that mention how our customer service team supported them through every stage of the ordering and shipping process. When you buy from FauxPanels.com, you're buying from real people, with a real reputation you can rely on.
We offer the highest quality products available anywhere.
Another reason why we are the leading producer of faux panels is because our products are made from the best materials using innovative manufacturing processes, and finished with the highest level of attention to detail.
And, again, you don't need to take our word for it. You can order samples of our stone, brick and wood-style panels and compare them with other panel products to decide for yourself which looks the most realistic. The answer will be right there in front of you.
Our products deliver a vivid, textured finish in a range of colors that perfectly match the real 'thing'. Time and again, customers have told us that our products are realistic, you can only tell the difference by reaching out and touching them.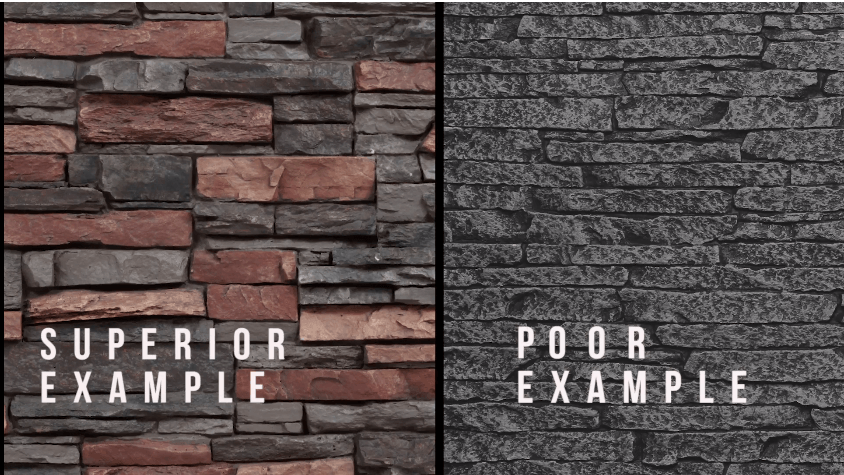 Our panels are undeniably better looking and more realistic than most competing products.
We manufacture panels that are the optimal thickness.
When it comes to synthetic panels - size matters. Some manufacturers try to cut costs by making their panels as thin as possible - but the cost savings for the consumer don't measure up. Thinner panels are less rigid, can warp and shrink, are more easily damaged and simply don't look as good. You can't create the texture of stacked stone or antique Chicago brick in a panel that's less than an inch thick.
We have always focused on quality rather than cost - so while our panels remain affordable (especially in comparison to using real stone or brick) they are a superior product. Our panels are manufactured from thick sheets of durable polyurethane foam, and in addition to providing rigidity and durability, this allows us to produce the most authentic looking panels on the market today. Nothing else comes close.
To sum up, always measure before you buy - and never choose a panel that's less than an inch thick.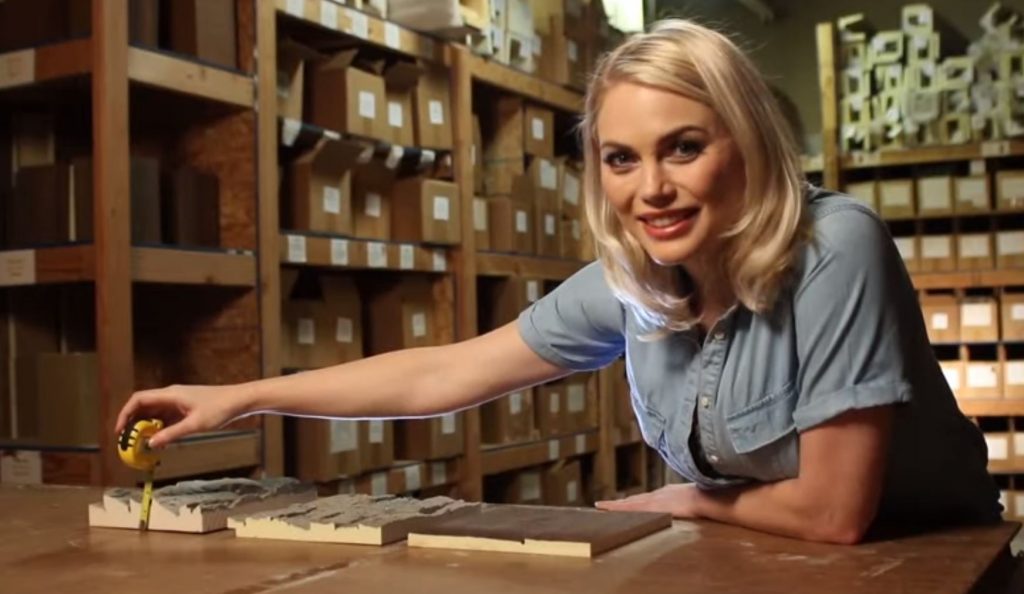 Our panels, on the left, are significantly thicker - for more durability, rigidity and a much more realistic texture.
We produce denser panels, with more layers of color and finish.
Along the same lines of thickness and quality, we take every step of the manufacturing process a step further than our competition. For example, our panels' material is more rigid than the competition's. Even if you find a panel that's as thick as one of ours (and you'll have trouble doing that) you'll find it's made from a less-dense foam, and is much more prone to being bent, crushed, cracked or otherwise damaged.
Likewise, the realism of our panels comes in part from a multi-step painting process that uses a variety of layered colors. This process also makes the panels highly resistant to fading or peeling. Remember, a 'cheaper' product will cost you in the long run. In the decades to come, our panels will look the same as the day installed - while competitor's products will have deteriorated significantly.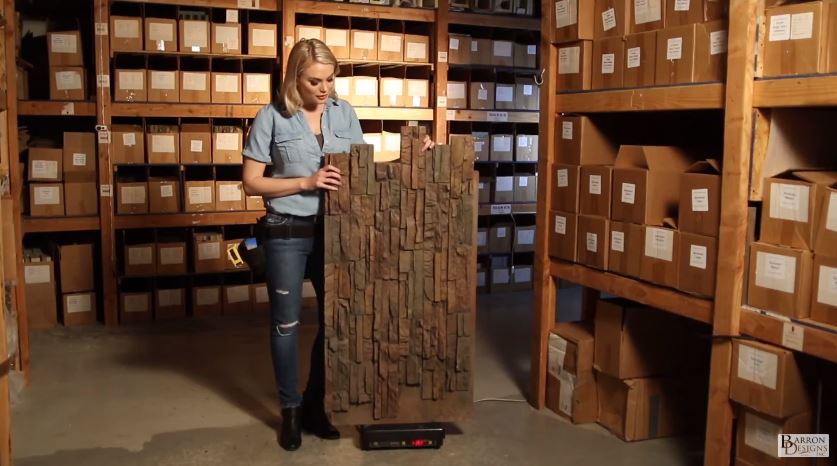 Our panels are heavier because they're denser - made of a more rigid foam that holds up much, much better.
Our fit and finish is the best on the market.
Another reason why thicker panels are better is fit. Our panels are manufactured with painstaking attention to detail, to ensure consistency in finish and design. This means that our panels fit together seamlessly in every installation. Cheaper products using thinner and less-dense materials will often warp or bend, and the panels won't fit together as neatly during installation. This requires additional trimming, sanding and filing to get them to fit right - and sometimes you'll never get them to.
Our panels always install easily; and once installed the stone, brick or wood pattern is consistently seamless from one panel to the next.

Our panels, on the left, have a consistent fit and finish. Cheaper alternatives often don't fit together neatly.
Our panels are some of the safest products on the market.
Look, fit and finish all fade in the list of priorities when it comes to safety. The well-being of your family is always what's most important, and that's why FauxPanels.com commit to making products that don't just look amazing - but are also a smart choice for your family's well-being.
We're the only faux panel manufacturer that can can offer IFC-Certified, Fire Rated products – giving peace of mind for your family. Our panels are tested to E84-15 ASTM Designation - the designated fire and flammability requirements of the American Society for Testing Materials, who have set the standards for safety and rigor in American manufacturing for over a century.
In addition to material safety, our products are also made from a closed-cell polymer that is resistant to mold, moisture and insects - and produce no VOCs. In many cases, this actually makes them a safer and smarter choice for your family's safety than even the 'real thing.'
Watch the video, save 10% on your order.
As a special bonus, a 10% coupon code will be revealed at the very end of this 4-minute video -- so watch and save, it's easy!
Check out the video, and give your upcoming design projects some serious thought. Our panels can help you bring the unique look of stone, wood or brick into your home - at a price you can't believe, and a standard of quality that can't be equaled.