We've seen a lot of design projects at FauxPanels.com over the years. We're always thrilled to see the new ways our customers have used faux panels in their homes or businesses, sometimes incorporating them in ways we never dreamed of.
The "Fauxy Award" Winning Dog House

This project in particular made us wag our proverbial tails. This month the "Fauxny Award" goes to Jerry Floyds of Knobs, Indiana. Mr. Floyds is in the business of constructing small outbuildings and was presented with a particular challenge using faux brick panels.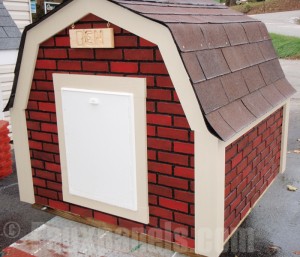 Wanted to send you a snapshot of the specialty dog barn that was constructed using your product. Because my customer had a neighborhood covenant requiring all out-buildings to look like his existing home (even a dog house) we used your Oxford panels to make the dog's home look like his masters! Very impressed with the quality and ease of installation and I look forward to using this product on other small out-buildings that I produce. - Jerry D. Floyds
"Ben" is a lucky dog. If you need more design ideas suited for the 2-legged variety of occupant, take a browse through some of the other project photos we've received.