The team at N'Stuff Music, in Pittsburgh, are proud to show off their awesome new studio design - completed using Cambridge Aged Brick panels and Light Gray ledgers.
Music Studio Refresh for N'Stuff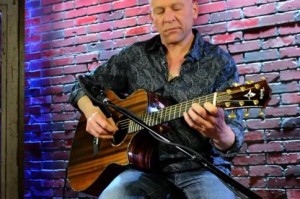 Cambridge brick makes a great backdrop for NStuff's awesome new studio.
The steel town of Pittsburgh has always had a rich musical heritage, giving birth not only to the great tradition of piano jazz, but also some of its greatest proponents - Earl Hines, Erroll Gardner and Sonny Clark.
Pittsburgh's passion for piano explains the continued popularity of the city's famous Pianos N' Stuff store - founded in 1968 and today recognized as one of the city's leading music stores (leading them to rebrand as N' Stuff, since they carry much more than pianos today.)
We recently received an email from the NStuff team, telling us about the incredible new studio they'd created using our products.
"We just wanted to say thank you for such a great product! Look how great the wall turned out!"
Brick panels make a great choice for a studio. Not only are they affordable and easy to install, but they're also molded from durable polyurethane; which actually has great sound absorbing qualities and makes a smart choice for places you need to insulate from noise and vibration.
And regarding NStuff's choice of panel - the photos and video speak for themselves.
The Aged brick style, molded directly from the real thing and painstakingly colored and detailed, perfectly matches the look and feel of Pittsburgh - a city built with steel, brick and the sweat of the American working man.
The ledgers placed at the top and bottom of the wall adds a great contrast piece, and frames the finished product beautifully.
Don't just take our word for it (or theirs!), Check out the great video NStuff showed us. (And the panels in the background!)