Our Custom Timber Beams are now better than ever - and manufactured in-house!
FauxWoodBeams.com has a 45-year heritage of excellence - and a commitment to always striving to improve. In recent years, one of our key areas of focus has been to bring the manufacture of our industry-leading products 'in-house' - to make our beams right here at home, using American materials and American labor.
There are a lot of reasons for doing this. In addition to supporting our local workers and economy, we get to control every aspect of the design, production, quality-control and distribution of our products -- improving the quality of what we sell, and the experience our customers have in buying it.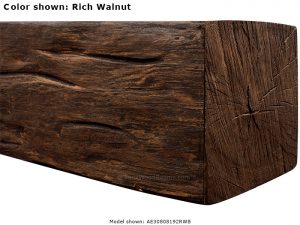 One of the product lines made at our manufacturing facility is Custom Timber.
If you've ever used our Custom Timber products before, you'll be familiar with their look of authentic aged timber -- cast in lightweight and durable polyurethane foam so that every grain, knot and imperfection is captured in vivid three dimension.
But now, Timber is even better.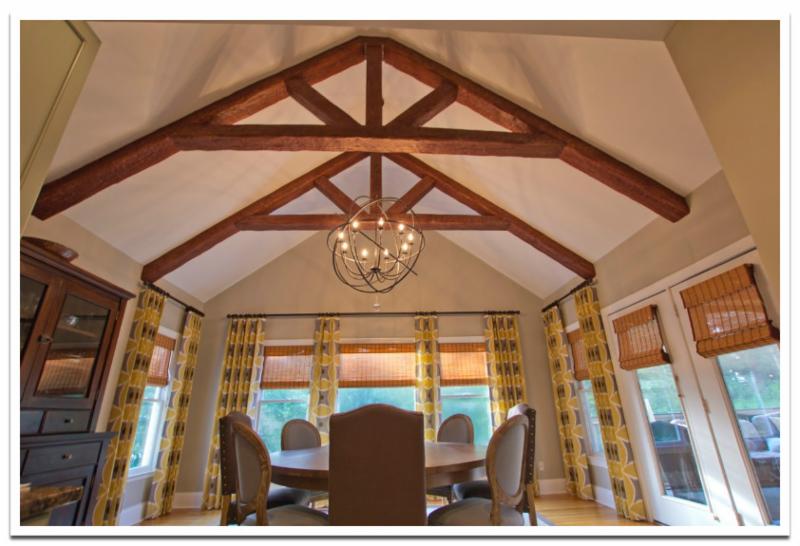 Dining room truss made with Custom Timber beams
Because we control and oversee every step of the manufacturing process, our quality control system is even more stringent than it was before. This means we check each piece through every step of production to make sure they are not shipped with any damage or imperfections.
Custom Timber is now made with a higher-density polyurethane foam; for stronger, more rigid beams that hold up even better during installation. We've also reinforced the joints for more durable ends. In addition, we've implemented a better finishing process that make Timber's incredible realism even more natural looking.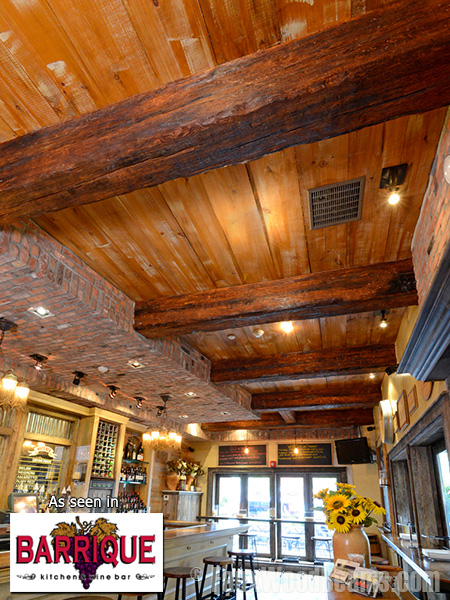 You can now order Custom Timber beams up to 36" wide, and up to 30' long.
We've also expanded control over the products' dimensions. You can now order the beams as wide as 36" x 36", and up to 30 feet long - perfect for installing a massive central beam depending on your needs. Custom-sized beams ship within 15 business days of your order, but we also offer popular sizes with the "Quick Ship" option that ship in approximately 3 business days.
We also offer mantels in the new Timber style, and a Class A Fire-Rated option is coming soon.
And the most incredible thing? Even after adding all these new features and advantages together, and combining them with domestic manufacture, we're actually able to offer our Custom Timber Beams at a lower price than they were before. You get so much more, for so much less, and enjoy additional peace of mind as well.
Our move towards in-house manufacturing is continuing at an accelerated pace, and every month more of our industry-leading products will reap the benefits. Now is definitely the time to take the plunge and order these materials for your project - and, if you do, be sure to send us pictures so we can highlight them here!