FauxWoodBeams.com is most famous for - obviously - our range of beams. We are proud to announce our new line of corbels for sale on our website, made from real western cedar and handcrafted to match our inventory of real wood beams.
There are an almost infinite variety of ways in which you can use our real and faux wood beams and mantels. Our corbels have always been one of our bestselling decorative accessories, resembling real structural braces used to support beams, parapets, mantels and more.
These new corbels are milled from high-quality western Red Cedar and beautifully finished in a variety of styles that resembles vintage or reclaimed pieces of timber.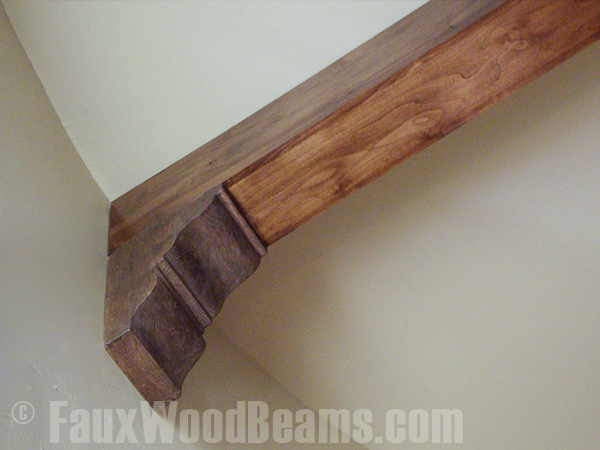 Ceiling beam with corbel attached.
Real versus Faux
If you're not familiar with our products, here's what you need to know:
While we offer beautifully realistic faux wood beams, mantels and other products in a variety of styles - all manufactured from lightweight and durable polyurethane - there are some customers for whom only real wood will do. To satisfy that need, we also offer a series of real wood styles that feature many of the advantages of our faux products.
The first advantage is that the beams are made in the box style, as in, hollow beams made from three or four-sided lengths of timber. The hollow interior means they're infinitely lighter than solid beams, and like their faux counterparts, can also conceal wires, cables and pipes.
Barn Board style beam
Secondly, they're made using new Red Cedar, rather than fashioned from reclaimed wood. While reclaimed can be a stunning building material, there are a host of reasons why you're rolling the dice when it comes to salvaged wood. We offer a great alternative, by using innovative techniques to artificially age and distress new wood to get the look without the associated disadvantages.
We offer real wood beams and mantels in the following styles:
Barn Board - to resemble wood taken from the sun-bleached exterior of farmyard barns. Our innovative finishing techniques deliver a century of gentle weathering in just a few days; and the results look stunning yet have none of the mold, rot, warping or cracking that barn board is well-known for.
Wire Brushed - these beams are made to resemble wood that has been vigorously scrubbed clean with stiff wire brushes. It makes for a smooth but intricately-colored surface that combines the highlights of a renovated surface, yet retains the deep coloration and pitting of a century of exposure to the elements.
Hand Hewn - these beams have been detailed with heavy axes to resemble the way solid timber beams were once carved by hand from tree-trunks. These are some of the most vividly textured of our products and the way we've mimicked the deep gouges in the wood is incredibly realistic.
Heavy Hand Hewn - who says you can have too much of a good thing? For those who loved our Hand Hewn beams, we recently made a new style of real wood beam that features even deeper distressing; for a more dramatic finish that vividly resembles some of the most striking of frontier timber woodsmanship.

Barn Board, Wire Brushed, Hand Hewn and Heavy Hand Hewn styles
Matching Corbels
Our new corbels opens up a whole new world of design possibilities - perfectly matching the material and exact finish of our real wood beams. These corbels are great for adding a little extra detail to the ends of the beams, underneath mantels or installed alone underneath roof overhangs, windows and more.

Our corbels are made from the same cedar wood as the beams. You can mount them directly to a beam or use mounting blocks - and they secure with screws for quick and easy installation.
We'll be writing more about how to use corbels effectively in the future - so stay tuned! But for now, check out the new corbel line and see if they fire up any design ideas you might have lurking deep in your imagination.