When Michel White, from British Columbia, decided to embark on his new home construction, he knew right from the beginning that it would require the use of faux wood ceiling beams.
New and Original Faux Beams for Ceilings
Built overlooking the Sunshine Coast, Michel's home is nothing short of a contradiction – built using the latest materials and techniques, but designed to resemble more traditional homes built decades – or even centuries - earlier.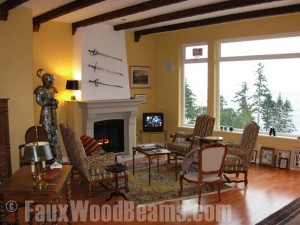 Period fixtures compliment the Faux Ceiling Beams
That theme is most evident inside – where hardwood floors and enormous windows combine to give a real "country manor" air to the property. It's an ambiance matched by period-style furniture and medieval collectables hanging from the wall.
Very clear is that a home like this would look completely out of place without the solidity of wooden beams hanging from the ceiling. This is presumably why Michel ordered them before the first bricks had even been laid.
"The beams arrived on time for our new house construction," Michel wrote, when he sent us pictures of his faux Timber Ceiling Beams after they were mounted. "They were installed in one day and the effect is stunning."
We don't disagree – and think that Michel's done an equally stunning job making sure that these brand-new beams look like they've hung from the ceiling for a century or more.
That authenticity is what Michel admits he was going for. He seems to take a lot of pride in admitting: "None of our friends believe that they are not real wood." You can't blame his friends, either. His Timber Ceiling Beams are intricately molded from authentic, hand-hewn timbers – and Michel went a step further by perfectly staining them to match the décor. It's this extra touch which makes the beams so difficult to pick out as "not the real thing."
Although built recently, faux wood beams make Michael's property appear much older and more venerable.
Just like with every other aspect of his homemaking, Michel completed the faux wood illusion with a little accessorizing. If you examine the photographs, you'll see that one of the reasons these Timber Ceiling Beams look so authentic is that they're all accessorized with a pair of color-matched Timber Corbels.
That look mimics how older buildings would have had similar beam supports sticking out of the wall; poking through the plaster that traditionally covered timber framed interior walls.
Michel's use of our faux wood products is incredibly impressive because it shows real vision on his part. Even before his stunning new home construction was completed, he'd worked out how to use modern design components to mimic traditional construction techniques. The result is brand new home that looks absolutely traditional and original.