Caroline Collin-Jacques of Quebec sent us pictures of how she used just a single ceiling beam to totally transform her minimalist dining room.
A Solo Ceiling Beam in a Minimalist Dining Room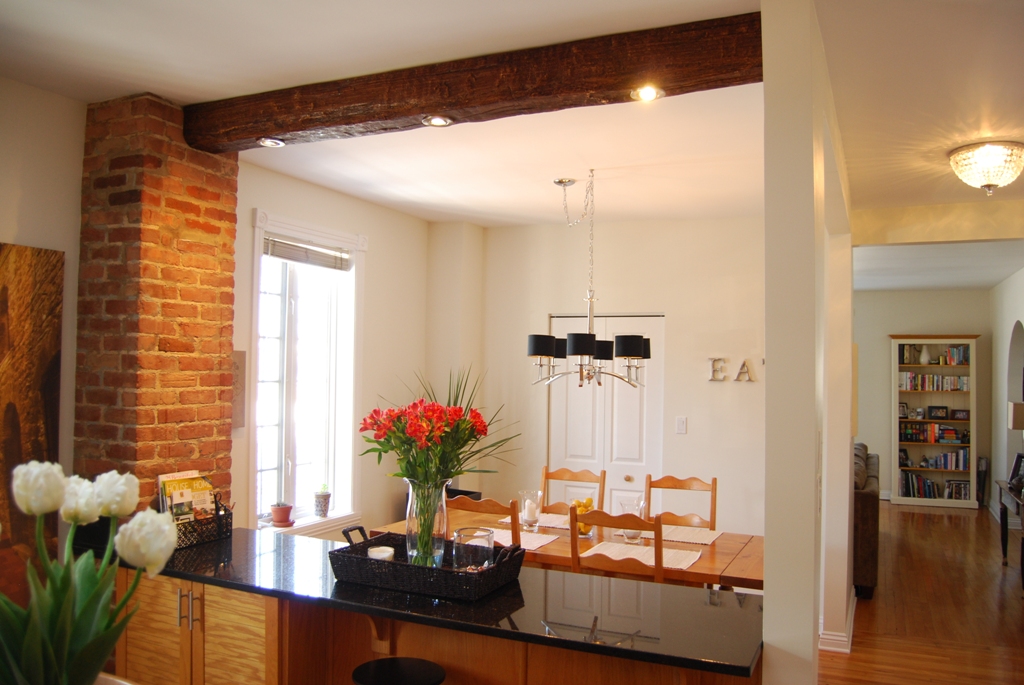 AFTER: Caroline's dining room was transformed with just a few, careful details in place, like the single beam over the counter.
"Less is more" is a lesson we get taught from childhood – but not many of us take it on board. There's perhaps no better example of how true that mantra is, however, than this example of minimalism.
In Caroline's home, there is a beautifully arranged serving counter separating one side of the room from the dining area. This was the focus of her redesign effort; and it paid off.
She already had one design cue to work from – a beautiful bare brick wall running up one side of the counter space. In order to keep to that timeless aesthetic, Caroline invested in a gorgeous black granite counter top to replace the white Formica and that alone revamped the entire cabinet and counter arrangement.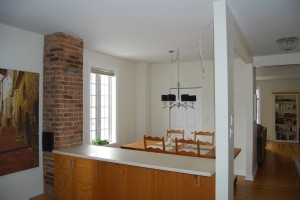 BEFORE: Drab white counter space and a bare ceiling made this a practical, but unexciting use of the dining arrangement.
But it was adding our Timber beam that really sealed the deal. Caroline installed it running parallel to the serving counter; making it appear as if the beam was just as structural a feature as the exposed brick wall. Then, to take her design to the next level, Caroline bored holes in the beam to install recessed lighting.
That's just one of the many advantages to faux beams over the real thing. The beam Caroline used is molded from tough and durable polyurethane; and can easily be trimmed to size with a regular wood saw. A simple attachment to a regular power drill was all Caroline needed to make the holes for the light.
The beam is also hollow; making it ideal for seamlessly running wiring inside. Once again, that's an advantage faux wood has that the real stuff doesn't.
The result was truly stunning – and goes to show that the old mantra is correct – less is more, as long as you use it right.
If you have a minimalist project that you think rivals Caroline's, we'd love to hear about it. Send your details and some pictures to info@fauxwoodbeams.com