Our products are always a hit with contractors. Here an installer from Los Angeles demonstrates how a single ceiling beam can make a big difference.
A Single Ceiling Beam can be Simple and Elegant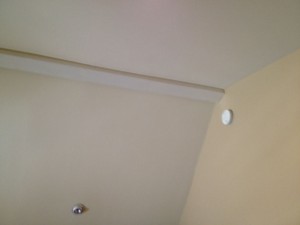 BEFORE: An existing white beam is the perfect mounting place for our false beam.
"I recently purchased and installed one of your faux beams," L.A. contractor Jon Johnson, of Johnson Builders, wrote to tell us. "My client was over the moon at the results."
The before and after photos Jon sent us are great, because they illustrate what a dramatic change even just a single ceiling beam can make - and in this case, they showcase more great details as well.
The "before" photo (upper left) shows that a white beam already existed on the apex of the cathedral ceiling Jon was working on.
This is a common architectural trick, covering up cracks and lines which are often inevitable when fitting this type of ceiling in a new house that has yet to settle correctly.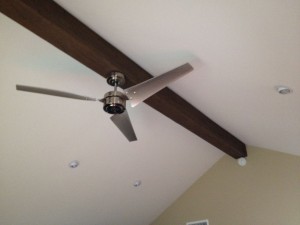 AFTER: The 3-sided beam slotted neatly over the existing beam. Contractor Jon took it one step further with a ceiling fan!
Rather than tearing down the existing ceiling, however, Jon skillfully ordered one of our beams in just the right size to seamlessly cover the existing beam. Because the beams are molded in a U-shape, it simply slotted over what was there before.
Unlike an authentic wood beam, which could weigh over a hundred pounds, this one was effortless to attach.
Just a few screws, with their heads covered by colored caulk, transformed an all-white roof into an elegant beamed ceiling.
Jon then took the project one step further. He took the time to install a ceiling fan as well - cutting a fixture hole right in the center of our beam and then fixing the heavy fan to the ceiling above.
This is another advantage of faux over the real thing.
Because our beams are molded from polyurethane foam, all it takes to cut a perfect hole is a regular power drill and circular bit.
The results look like they were time consuming and expensive. For a craftsman like Jon, the opposite was true.
Although Jon's pictures aren't the most spectacular we've ever been sent, they're some of our favorites because they show what's really best about our products - that you can get amazing results without the expense or expertise needed to work with real wood.