Julio adds a little Aztec flair to his kitchen with the clever use of our Oxford Simulated Stone Wall Panels.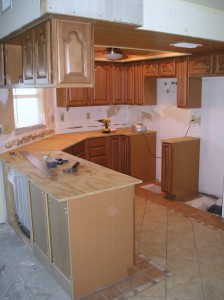 Before: Awkwardly-placed power sockets and ducts made Simulated Stone Panels a good choice
We're lucky enough to be constantly receiving 'before' and 'after' pictures from customers who've transformed their homes with our simulated stone wall panels. No matter how many of these photos we see, we'll never stop being amazed at the incredible things people do with our products.
One recent project that impressed us was the handiwork of Julio, from Cape Coral, Fla. When he decided to remodel his kitchen, he added a touch of Mesoamerican magic through the strategic use of our Oxford Simulated Stone Wall Panels.
Making Mesoamerican Magic With Simulated Stone Wall Panels
Julio's new kitchen style has a grove-like quality to it – warm and welcoming. His choice of Oxford Stone Wall panels perfectly sets off the stainless steel appliances and beautiful dark wood cabinets. He did a really great job overcoming installation obstacles that might have made using real stone or brick next to impossible – including an air vent on one wall, plus light switches and power outlets in other places.
But the really impressive part of Julio's transformation was his careful attention to detail. In the photos, you'll be able to spot how he used matching switch and outlet covers to perfectly match the tan texture of the stone wall panels – and that stunning 'sun' hanging above the counter adds a timeless, Mesoamerican feel to the project that fits in perfectly with the rich pageantry of Florida's pre-colonial past.
But it wasn't just looks which made Oxford Stone Wall Simulated Panels a great choice for Julio's project.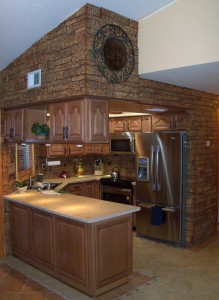 After: The results are stunning, and these Oxford Stone Wall panels can also be ordered Fire Rated
Our molded polyurethane panels are always ideal for use in the kitchen because of their tough, resistant exterior and the fact that they're absolutely waterproof – perfect for protection against leaks, dampness and humidity.
Plus, as an additional advantage, our Oxford range - and panels in the Norwich and Woodland line - can be ordered Fire Rated.
There's a small additional charge, but for panels that are going to be near a source of heat, like an oven, stove or fireplace it adds a piece of mind that's beyond price.
We think Julio's done amazing job with his kitchen remodel – but if you think yours matches up, don't hesitate to send up your before and after pictures.
And if you're interested in seeing what other talented home improvers like Julio have achieved with our simulated brick, wood and stone wall panels, be sure to check out our gallery and testimonials – they're a great source of home improvement inspiration.