Hot Harry's in Pittsfield, MA made their menu board design look positively 'brickalicious' with the help of Regency Old Chicago Brick panels.
Burritos are one of the most marvelous culinary inventions in the world - and if you live in America's northeast, it's a commonly known fact that some of the best of them are to be found at Hot Harry's Fresh Burritos - a chain of six franchises offering fresh-cooked burritos full of mouth-watering deliciousness.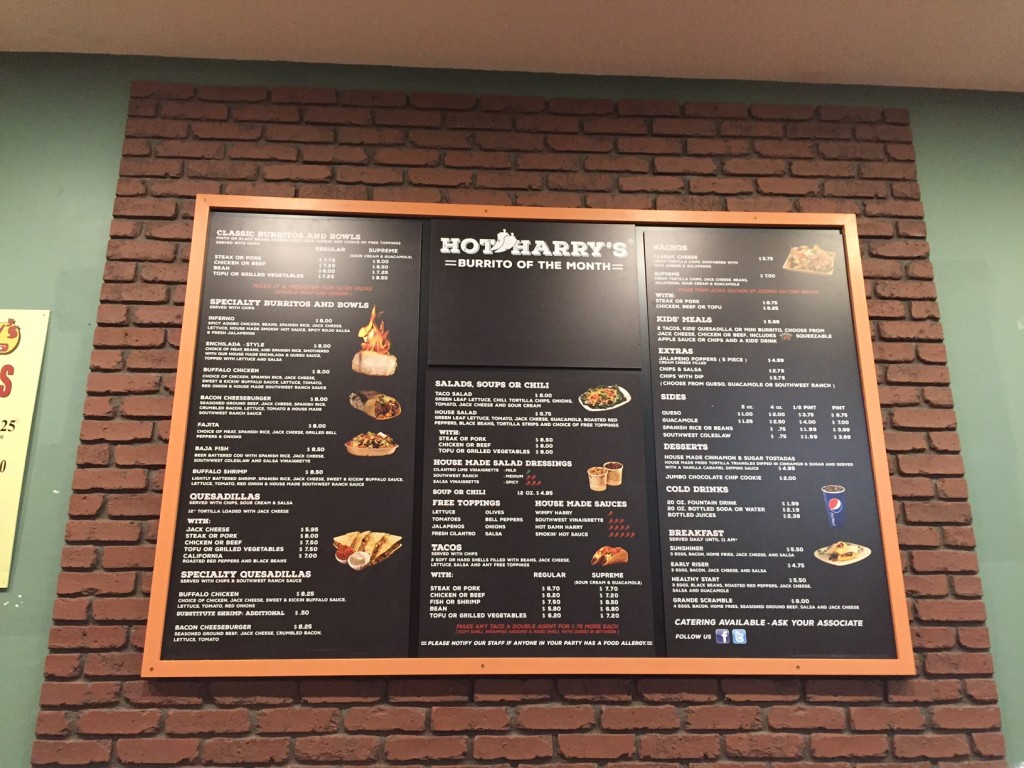 And now, if you hit up their Pittsfield location, you can catch a glimpse of one of our products as well.
When building their menu for this venue, the owners decided that they wanted a classic, old brick look in keeping with the general style and character of Pittsfield itself. Using real brick was out of the question; but they managed to score something that looks just as good by choosing our Regency Old Chicago Brick Panels in Baked Clay as an alternative.
Molded from read old brick walls, Regency looks vividly realistic - just like real clay brick. However, the panels themselves are made from durable, high density polyurethane foam; which makes them quick and easy to install.
At Hot Harry's, this meant they could be attached directly to the walls themselves with construction adhesive and screws; taking just hours to install rather than the days it would take to create an actual brick finish.
In the world of restaurants, that's important - because you're losing money during every hour the store isn't open.
The panels offered an additional advantage. When it came time to mount the menu boards over the new brick, the board just drilled straight through the polyurethane into the studs beneath. Real brick would have required specialized drill bits and hours of work to accomplish the same.
And once the panels are up, there's very little way to tell that they're not actually brick - kind of diminishing the 'advantage' of using the real thing.
It's a small, quick and simple project - but the end result looks great. We're hugely proud to be part of the Hot Harry's decor; and every time we're in Pittsfield, you can bet this is where we'll come to eat.