Our synthetic wood products are vividly realistic, as they're molded directly from real timber and perfectly capture every grain, knot and imperfection of the actual wood. But one challenge interior designers face is when they try to pair our false beams with existing wooden fixtures and fittings. How do you get the synthetic wood to perfectly match the real thing?
Matching Synthetic Wood to Existing Wood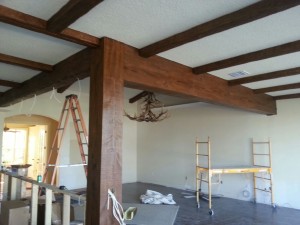 The larger vertical and horizontal beams are 'faux' - but it's impossible to tell they aren't authentic, real wood beams running across the ceiling.
Patty M. recently sent us pictures from her home renovation in Orlando, Florida. She was facing a serious challenge - how to combine our faux wood beams with the existing, real ceiling beams that were a feature of her house.
Normally, customers order our beam in one of many different real-wood shades, such as Light Oak or Walnut. These are incredibly realistic finishes that look just like the real thing once they're installed.
However, it becomes more of a challenge when there are existing wooden beams in the house, as those beams will rarely match the finishes we sell straight from the shelf. The best option in these circumstances is to order our faux wood products unfinished and stain them yourself to match the existing wood.
Fortunately, this is not as difficult as it sounds.
The first step is to order the beams you want 'unfinished'. When they're shipped to you, they'll either come ready-to-paint or in need of a coat of primer.
If you're priming the beams yourself, we recommend a water-based primer like Benjamin Moore "Fresh Start". It's a 100% acrylic all-purpose primer, available in a light tan or peanut color to give a great base to the following stain color.
After priming, you can stain the beams with a regular wood stain like Benjamin Moore's semi-transparent deck stain "Arborcoat". This is where you get the opportunity to totally customize the color of the stain to match the existing wood you have in your home. For more information about finishing our beams, check out this page on painting and staining.
Of course, while staining is a straightforward process, getting it perfect takes a bit of talent. Fortunately, Patty managed to do an incredible job. As you can see from the photo above, it's impossible to tell where the false beams end and the real wood begins.
As she writes in her email, enclosing this picture: "My home is not finished yet, but I have installed the beams, and I am very pleased with the results."
"I thought staining the custom rough sawn beams so they would match the timber beams was going to be a real problem, but I think the final result is stunning… They match the timber beams extremely well."
We couldn't agree more. Great job, Patty!