"I've always loved the look of beams," writes Marci, who recently sent us pictures of the faux beams she'd installed. "The house I grew up in had beautiful beams." Those memories inspired her to add the distinctive look of wooden beams to her own Massachusetts home's ceiling design.
Using Faux Ceiling Beams to Make Things Cozy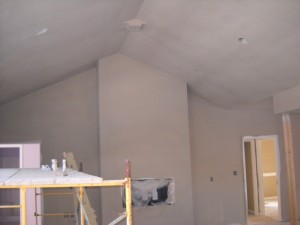 Before: Installing faux beams on Marci's ceiling was going to be a stretch.
Like with the impressive installation that engineering veteran Dan accomplished in this blog post, Marci faced the challenge of getting her Raised Grain Beams installed on a sloping ceiling, with a very wide span to cover.
Fortunately, she had some inside help from the people who knew the house best – her uncle and cousin, who were not only family, but also the contractors who'd built the house.
"It took two people three days to install the beams," she explains. "Because they'd built the place, they knew the pitch of the ceiling and simply cut the beam on the angle to match."
(But like they best contractors, they measured twice so they only had to cut once. "They checked it with a bevel square," Marci reassures us.)
In previous sloped ceiling installations, installers have taken some pretty innovative approached to attaching the beams. Marci's family is no exception, and knew how to install a suspended beam:
"They secured the beams with joist hangers that are screwed to a block behind the dry wall." The next challenge was making sure the beam was sturdy over the entire length of Marci's impressive ceiling. "They did that by laying a 2" x 4" beam inside the faux wood beam, 'gluing and screwing' on both sides, staggering the screws about every foot."
Marci also made use of some of the accessories available for your faux wood beam installation. "Faux straps were used for extra support," she explains, "and looks!"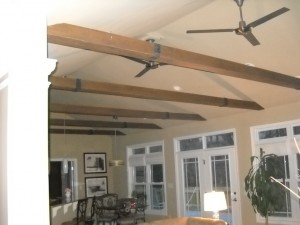 After: A 2" x 4" core and Faux Straps delivered great results
Even reinforced by 2" x 4", the beauty of our faux wood beams is that they're light enough to be installed by just two people – which is why Marci's contracting cousin was able to install the row of beams in just three days, using simple trim head screws.
And the results? Spectacular.
"We're very happy," Marci writes. "Everybody comments on the beams and thinks they're real. We love the look of them – we think they make the place look cozy."
We wholeheartedly agree – and are excited to show off the results of Marci's handiwork in case it inspires anybody else looking to make things cozier in their own home.