One of our customers finished a beautiful attic makeover - converting a neglected space into a romantic getaway using stacked stone panels in Light Tan to cover the gas fireplace they installed. Take a look at their before & after pictures and get inspired!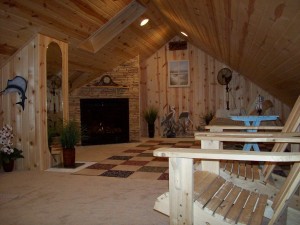 Is your attic space a catch-all?
Like Terry, consider affordably adding another usable room to your house by converting the attic – especially if you have a garage or basement that can house all your must-keep items.
A finished attic can serve as a guest bedroom, a playroom for the kids, a cool office space – the sky's the limit. This can relieve the burden of having your kid's toys strewn all over the living room, your spouse's computer cables and paperwork populating the kitchen table, or your visiting in-laws camping out on the sofa.
The best part about remodeling an attic is that most do-it-yourselfers can complete most or all of the work themselves, relatively quickly and inexpensively in comparison to adding a room to your own from scratch.
Some issues to consider before you start are local building department codes/permits needed, wiring requirements, heating and cooling, insulation and stair access. You also want to ensure that the roof framing allows for enough usable space, and that the existing floor is strong enough to hold furniture and people.
While you'll need to do some further research before you begin your attic makeover project, here are a few tips to help you along the way:
• Choose flooring that is really easy to clean, such as a nice-looking laminate. This is especially important if the attic will be serving as a playroom – the last thing you want is to be dragging that big vacuum up the attic stairs every day.
• Make sure the attic is well insulated. This will keep it warm in the winter and prevent it from becoming sweltering in the summer. This is important not only for the attic itself but for the whole house. The attic is one of the house's biggest culprits for energy loss.
• Buy some unfinished bookshelves to install within the eaves. This will save you loads of storage space and will look cool too!
• Install a couple of skylights. They'll let a lot of light into your dark attic and will also help warm the room on sunny days. Add a small portable space heater for those really cold days.
• If you want the attic to double as a guest room and a playroom – try putting in a trundle bed. This will save space and can act both as a bed and a sofa for the kids to sit on.