When FauxPanels.com™ customer Cordell Suik decided to spruce up his bathroom, he created a stunning luxury look with our Oxford Large Riverstone Natural Panels.
Luxury Bathroom Remodel with Faux Stone Panels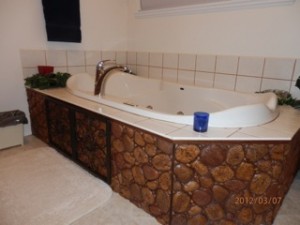 Cordell's amazing bathroom transformation was achieved using our faux stone panels.
There's nothing worse than a boring bathroom – but most people think renovating their washrooms to showpiece standards will cost them thousands, or tens of thousands, of dollars.
One FauxPanels.com customer demonstrated that this doesn't need to be the case.
When Cordell Suik from Alberta, Canada decided to spruce up his bathroom by replacing the standard-issue wooden boarding around his whirlpool tub, he wanted to go all out. So, instead of using similar wood or board material as a replacement, he settled on bringing a touch of spa-styling to his home by using stone.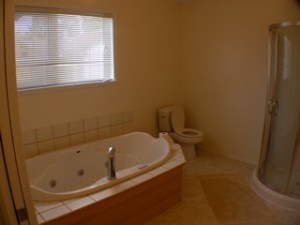 His original bathroom was drab and dull - stone veneer is a great way to counteract that.
Real stone siding looks stunning; but comes with a pretty hefty price tag attached. In addition to thousands of dollars' worth of building materials, it involves a major renovation and days of work to build up a stone wall.
Fortunately, Cordell found a smarter solution online – our Oxford Large Riverstone Faux Stone Panels.
Molded from real river stone walling in durable polyurethane, our panels perfectly recreate the look and texture of stone; and are intricately detailed and colored to match. Cordell was able to cut and install our panels himself using regular tools – a wood saw, glue and nails – and in just hours transform his drab tub surrounding into something that wouldn't look out of place in a luxury hotel.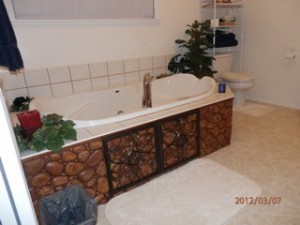 Spa style bathrooms are easy to achieve, and take just hours to create using faux stone panels.
What made our panels even more suitable was that they're 100% waterproof – so won't swell, crack or warp like regular composite boarding or wood can do in a humid bathroom. They offer the rare combination of style, practicality and affordability that illustrates what a smart choice Cordell made in choosing them.
Check out the before and after photos yourself and you'll agree – the results are incredible. Hopefully Cordell's hard work will inspire you if you're looking to transform your own bathroom - and if you need more inspiration, don't forget to check out our photo gallery for pictures of more great Faux Panels Projects.