Today.com recently featured a living room makeover that incorporated faux wood beams - demonstrating how popular the beams are with designers looking to transform their decor.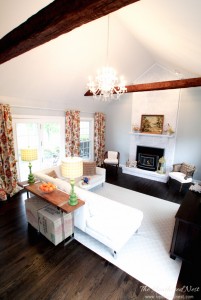 Heather from heatherednest.com revealed her stunning ceiling transformation.
What can you achieve with a $450 makeover? That was the question Today.com posed when they featured blogger The Heathered Nest and her magnificent living room project.
The secret to her stunning results was the strategic use of faux beams from Barron Designs.
"Beams. So dreamy. They are an architectural element extraordinaire," Heather writes. "I love 'em. Always have. To me, they say, "Come on in and snuggle by the fire"… But they also say "You the type of homeowner that likes paying for things through the nose? Then buy a some of us!" And when I realized this, suddenly, the beam dream became obscene. And so ended my love affair with beams."
Heather is lamenting, of course, the incredibly high cost of installing solid beams in your home. Unless your house is a genuine historic property, adding real wood beams can cost thousands of dollars and require significant architectural planning. That's why she said "bye bye" to the beams.
Until she discovered there were faux options.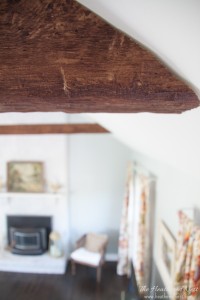 Cutting the beams at an angle allowed them to fit snugly with her ceiling.
Heather used products similar to the ones we offer at BarronDesigns.com to totally revamp her living room - adding two beams that criss-cross the ceiling to mimic the look of exposed beam work. The process she outlines to install them is similar to what we recommend - and was completed in just a few hours.
As you can see from the pictures, Heather's beams look fab - and cost a fraction of what real wooden beams would. But, even better than that, they perfectly resemble the real thing; right down to every grain, imperfection and knot.
With our beams, we manage to achieve that vivid realism by taking molds from real timber, and then recreating it with high density polyurethane foam. The beams are then finished in a variety of realistic shades - including Walnut, which is similar to the choice Heather made - and are then ready for installation right out of the box.
We love what Heather did with her living room - and we love the price point even more. Check out our faux wood beams and you'll be able to find products similar to the ones Heather used, and you could be just a few clicks away from starting your own ceiling transformation!
Our faux wood beams can be used in a variety of ways to showcase a ceiling.