Millions of Americans were hit hard by Hurricane Irene last weekend; with some suffering devastating damage to their homes and properties.
Labor Day Sale on FauxPanels.com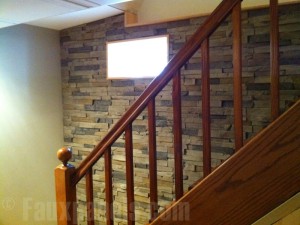 Stone veneer panels are great for installing in a finished basement; even one prone to flooding.
Fortunately, many of us on the east coast escaped with relatively minor damage; losing shingles, water in the basement and other inconveniences that remind us of just how lucky we were.
While repairing roofing and cleaning out a flooded basement is a pain, many turn the inconvenience into an opportunity; turning simple repair and maintenance work into an excuse to start, or finish, a home remodeling project they've been putting off for a while.
Our faux panels, exterior siding and other faux stone, brick and wood products are great tools for making the most of these remodeling projects, as they're affordable, easy to install and 100% waterproof; which is especially relevant as many of us are being forced to reevaluate just how vulnerable our homes are to water.
Even better, if a post-flood home design project is on the "to-do" list, this Labor Day you can instantly save 5% when you order faux panels online by using a special Labor Day sale coupon FauxPanels.com has created.

Labor Day sale coupon
It's easy to use. Just shop for what you want online, at fauxpanels.com, and then enter the Labor Day sale code at checkout – SMP11.
This savings code is valid throughout September 5, 2011 – and must be used at the time of purchase and cannot be combined with any other savings or sale offer.
Let us know what you buy – and how you use them! And if you send in before and after photos to info@fauxpanels.com, we might even ask to use them on our blog!