Simona Dombrauskaite, from Florida, sent in a video of her kitchen remodeling project that shows us experts how it's done!
Remodeling a Kitchen with Faux Timber Beams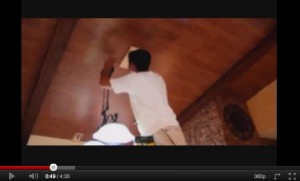 Simona's family installed our faux wood Timber beams in record time.
When it came to redecorating their beautiful kitchen, Simona's family decided to go all out. They created a full-wood look by pairing laminate roofing with our Timber beams – and then installed them in record time. You can see the results in the video below. It's pretty impressive!
In our defense, the time-lapse probably helped. But regardless, Simona's video illustrates just how easy our beams are to put into place. While installation took just a few seconds on video, it only took minutes or hours more in real life – showing how the whole process can be accomplished over the course of a weekend, or on a day off.
Unlike the real things – which can easily weigh over 100lbs – faux wood beams can be moved into position by a single person, and they attach to ceilings with mounting blocks and regular screws. They can also be mounted to a variety of ceiling surfaces; which is something Simona and her family took full advantage of.
They decided to give their kitchen ceiling the full-wood look by pairing the beams with laminate boarding, similar to the stuff many people use on their floors at home. They installed the laminate first, plank by plank, then drilled mounting blocks straight through which they installed the Timber beams on.
The results look great, largely because the laminate they picked matched our Timber beams perfectly. Another option they could have gone for, though, was a full ceiling system from FauxWoodBeams.com; one that includes matching faux wood panels which can cover a larger area than laminate beams, and looks just as good (if not better.)
We love to receive videos and pictures from customers about how they used our products in their homes. If you have a video you'd like to share with us, make sure to drop us an email at info@fauxwoodbeams.com. We'd love to feature it here!