Last week, we told you about Mary and Adam's incredible New England home, which dated back 230 years. Since then, we've had a lot of people asking to see more pictures. Here they are!
Interior Design Photos: Faux Wood in a Historical Home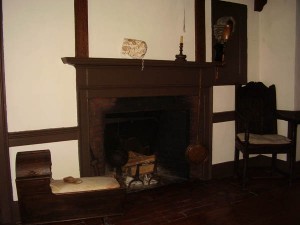 Faux wood planks complement the authentic wood of this period fireplace
Mary and Adam wanted to have the same exposed wooden beams and wall planking that made other rooms in their home so striking. But it wouldn't be easy to do.
Using real wood would not just have been expensive – installing authentic timber ceiling beams would also have required substantial structural alteration to the historic home.
Fortunately, they found an alternative with our faux wood products – and discovered that our faux wood planks, timber beams and simulated wood corbels perfectly matched the centuries-old wood used throughout their home.
The faux wood beams worked to give the look of real timber beams – and attached to the existing ceiling using wooden mounting blocks and regular screws.
Elsewhere, Adam and Mary used faux wood planks directly on the walls – similar to the way colonial builders used to leave exposed planks through the traditional plaster or wattle. Again, these could be attached simply; using either construction adhesive or trim head nails covered over with colored caulking.
Perhaps the most impressive detail was the smallest – the use of corbels on real wood beams. Despite fake and real being right there for comparison, our simulated wood corbels blended in seamlessly; and gave a nice architectural detail to the stunning old beams.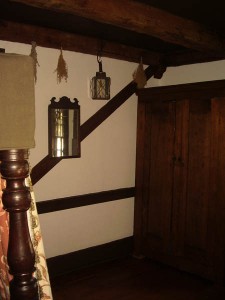 Faux wood planks recreate the period look of exposed structural beams.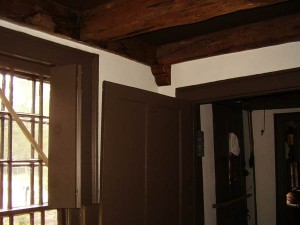 These faux wood corbels perfectly complement the real wood details of this historic home.
In the bedroom, faux timber beams match the real wooden beams elsewhere in the house.