Ron Edwards had a seriously impressed wife, when he installed a single ceiling beam like a pro.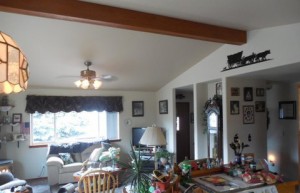 Joyce and Ron added a beam across the entire length of their room. There's an old joke: "Behind every successful man stands... an utterly astonished woman." And while that's not exactly true, husband Ron Edwards of Portland, Oregon got the thumbs up from his wife, Joyce, after he effortlessly installed one of our Custom Aspen Beams. "Here are our before and after pictures of the beam that we ordered from your company," Joyce wrote, in the email that accompanied her pictures. "We appreciate all of your help - your customer service to us was outstanding." Ron and Joyce ordered their beam unfinished, and stained it themselves to match the existing wood in their beautiful single-story home.
BEFORE: You can see that the apex roof was boring and featureless. That's one of the advantages of our faux wood beams. They're made by injecting high density polyurethene foam into a mold of a real timber beam. The result is a lightweight and durable beam that captures the vivid texture of real wood - every knot, imperfection and grain. But because it's made from polyurethene, it can be stained and finished in any color you want and made to look like whatever wood you choose - from light and airy white oak to rich and dark cedar or maple. "We have had many compliments already," Joyce admits - a testament to the fact that, once installed, our beams look so vividly realistic that most people can't tell them apart from the real thing.
INSTALLATION: Ron was able to install the beam entirely on his own. But what really impressed Joyce wasn't just the realistic look or finish of our beam. It was, as Joyce writes, that: "Ron installed the beam by himself." Polyurethene is durable, but incredibly lightweight. It weighs a literal fraction of what real wood does. As a result, it can be mounted fairly easily to blocks attached to the ceiling studs; and its generally just a two man job. Or, as Joyce found out, a one man job in Ron's case. "As his wife, I was very impressed that he could install it by himself," Joyce admits.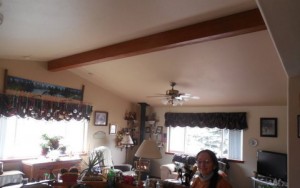 AFTER: The unfinished beam was hand-stained to match the existing wood in their home. That's not a dig at Ron's handiness with a set of tools (the staining job he did already demonstrated his do-it-yourself ability.) It was more a shoutout to the fact that Ron was able to install a full-length beam all by himself; and the result looks like its an authentic length of historic timber that would - if it was real wood - weigh 100lbs or more. We love this project not just because it's simple, and looks great - but because it shows that installing a fantastic-looking beam is within reach of any homeowner; and you don't need specialist tools or knowledge to finish up with great results.