Since colonial days, Americans have put a premium on stone or brick homes over the more traditional wood and frame buildings; but the cost of construction with stone is not always one homeowners can afford. One BarronDesigns.com faux panel customer, Gary Stelman, used stacked stone veneer panels to get the best of both worlds for his Pennsylvania home.
Stacked Stone Veneer Panels Over Stucco - Affordable New Home Exterior
America has always been an expanding nation – which is why American homes are traditionally made of affordable, readily available materials like wood. It's made masonry, stone and brick homes something of a premium; something customer Gary Stelman, from Horsham, Pa., was well aware of.
But when it came to changing the look of his beautiful masonry home, adding a real stone façade threatened to be costly, impractical and time consuming. This is why Gary decided to go another route; with our Wellington Dry Stack Earth color Faux Panels.
Molded from durable polyurethane foam, these panels perfectly mimicked the appearance and texture of real dry stack walling; but at the fraction of a price. Even better, they attached straight to the sides of Gary's existing home; with just a layer of drainage mat between the wall and the panels to meet building code.
That meant Gary was able to transform his home in just days; and as you can see from the before and after pictures, the results were impressive.
Some of the tricks that gave Gary such incredible results included staggering each row of panels, so the repetition of pattern was hidden and the panels blended together seamlessly. Colored caulk was also used to hide where screws attached the panels; and seam the interlocking panels together.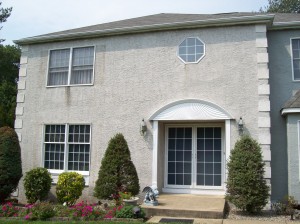 BEFORE: A stucco exterior gave Gary's home a dated look.
BEFORE: Because it was made of masonry already, a stone exterior would add little value; not enough to justify the cost.
BEFORE: The contrasting rooflines offered Gary some potential for creating a unique look with faux panels.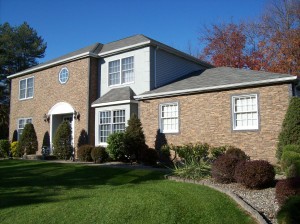 AFTER: Gary kept part of the house in original stucco, to beautifully highlight the new stacked stone veneer exterior.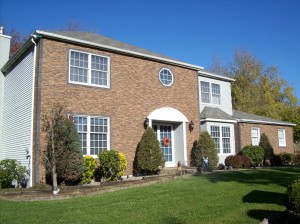 AFTER: Covering the entire house in faux stone siding cost a fraction of using real stone, or a real brick facade.
AFTER: Half the cost of building in stone or brick is labor. Using faux panels gave Gary the opportunity to reface his home in just days.

We regularly receive pictures of our faux panels in action, but Gary's project was particularly impressive because he transformed the entire exterior of his home. Have you managed to get results that rival his? If so, please send pictures. We'd love to see them!